Notice of Planned Work and Road Closure- Cascade River Road (Beginning Sept. 8, 2014)

The Cascade River Road will be closed from September 8 until late October 2014 to all public use (including foot, bicycle, and vehicle traffic) at the Eldorado gate (3 miles from road's terminus) in order to perform permanent road and culvert repairs. More »
Lone Mountain Fire - National Park Service Trail Closures

The Lone Mountain Fire in North Cascades National Park is approximately 5 mi NW of Stehekin in the Boulder Creek drainage. Boulder Creek Trail is closed. More »
Closure of Adjacent U.S. Forest Service Road and Trails that Access North Cascades NP Complex

The Twisp River Road is closed west of Eagle Creek. The following USFS trails are closed due to the Lone Mountain 1, Little Bridge, and Carlton Complex Fires: War Creek, South Creek, Twisp Pass, Reynolds Creek. More »
Accessibility at Sterling Munro Trail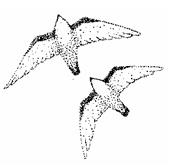 A fully accessible boardwalk trail
, winds 300 feet (100 meters) from the back left of the Visitor Center. This trail offers a spectacular view of the Picket Range mixed with fresh forest smells and benches for resting. A squirrel's chatter may greet a passing visitor. Please use caution if boardwalk is frosty or wet. Accessible restrooms available in the Visitor Center.
Rated:
Easy.
Trail length:
300 feet.
Total elevation change:
5 feet.
Inclination:
0%.
Cross slope:
0%.
Trail width:
6 feet.
Surface:
Boardwalk.
Obstacles:
None.
Did You Know?

In addition to Wilderness, Recreation Areas and National Park designations there are also five Research Natural Areas in the complex: Silver Lake, Pyramid Lake, Boston Glacier, Stetattle Creek and Big Beaver Valley.