State Route 20 closed at Mile Post 134, Ross Dam

After a brief closure at Newhalem due to an avalanche and unstable conditions, SR 20 has re-opened to its normal winter closure point at MP 134, Ross Dam. The highway will remain closed from Ross Dam to MP 171 (Silver Star Creek) until spring re-opening. More »
Ross Dam Haul Road Closure Continues

A short segment of the Ross Dam Haul Road between the Diablo Lake suspension bridge and the tunnel remains closed to public use due to continued recovery following a March 2010 landslide. The closure will remain in effect through 2014. More »
Notice of planned work for the Cascade River Road, fall 2014

Visitors planning to access the park via the Cascade River Road after Labor Day should be advised that the Park Service is planning a fall closure of this road at Eldorado Creek (3 miles before the end of the road) in order to perform permanent repairs. More »
Accessibility at Sterling Munro Trail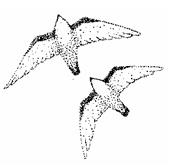 A fully accessible boardwalk trail
, winds 300 feet (100 meters) from the back left of the Visitor Center. This trail offers a spectacular view of the Picket Range mixed with fresh forest smells and benches for resting. A squirrel's chatter may greet a passing visitor. Please use caution if boardwalk is frosty or wet. Accessible restrooms available in the Visitor Center.
Rated:
Easy.
Trail length:
300 feet.
Total elevation change:
5 feet.
Inclination:
0%.
Cross slope:
0%.
Trail width:
6 feet.
Surface:
Boardwalk.
Obstacles:
None.
Did You Know?

North Cascades National Park Service Complex includes 684,000 acres near the crest of the Cascade Mountains from the Canadian border south to Lake Chelan.