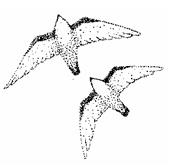 A fully accessible boardwalk trail
, winds 300 feet (100 meters) from the back left of the Visitor Center. This trail offers a spectacular view of the Picket Range mixed with fresh forest smells and benches for resting. A squirrel's chatter may greet a passing visitor. Please use caution if boardwalk is frosty or wet. Accessible restrooms available in the Visitor Center.
Rated:
Easy.
Trail length:
300 feet.
Total elevation change:
5 feet.
Inclination:
0%.
Cross slope:
0%.
Trail width:
6 feet.
Surface:
Boardwalk.
Obstacles:
None.