Highway 20 Will Be Closed East of the Park For Culvert Repairs On Oct 21 & 22.

Highway 20 will be completely closed between mileposts 147 & 157 (Granite Creek to Rainy Pass) from 6 a.m. Oct. 21 to 4 p.m. Oct. 22. The Easy Pass trailhead will be inaccessible during this time. More »
Diablo Lake To Be Drawn Down Three Feet in Oct., Trailer-Launched Boats Affected

Diablo Lake will be drawn down 3 vertical feet for facility repairs from October 8-17. During the drawdown, boats with trailers will not be able to launch or take boats off the water. Hand-launched vessels will still be able to launch. More »
Cascade River Road will be open as normal through fall/winter 2014

Cascade River Rd. will be open in 2014 until snow conditions make it impassable to vehicles, as normal. The road closure that was planned to begin September 8 has been postponed beyond 2014 due to unforeseen circumstances. More »
Accessibility at Sterling Munro Trail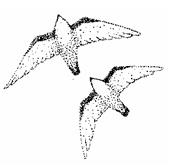 A fully accessible boardwalk trail
, winds 300 feet (100 meters) from the back left of the Visitor Center. This trail offers a spectacular view of the Picket Range mixed with fresh forest smells and benches for resting. A squirrel's chatter may greet a passing visitor. Please use caution if boardwalk is frosty or wet. Accessible restrooms available in the Visitor Center.
Rated:
Easy.
Trail length:
300 feet.
Total elevation change:
5 feet.
Inclination:
0%.
Cross slope:
0%.
Trail width:
6 feet.
Surface:
Boardwalk.
Obstacles:
None.
Did You Know?
Grizzly bear tracks can be a reliable indicator of species? Grizzly bear and black bear forepaw tracks are distinct from one another and often times better than a photo of the bear to confirm an observation. So don't just look up, look down.