Diablo Lake To Be Drawn Down Three Feet on Sept. 17 and Early Oct., Trailer-Launched Boats Affected

On September 17 and October 1-15 Diablo Lake will be drawn down 3 vertical feet for facility repairs. During the drawdown, boats with trailers will not be able to launch or take boats off the water. Hand-launched vessels will still be able to launch. More »
Cascade River Road will be open as normal through fall/winter 2014

Cascade River Rd. will be open in 2014 until snow conditions make it impassable to vehicles, as normal. The road closure that was planned to begin September 8 has been postponed beyond 2014 due to unforeseen circumstances. More »
Lone Mountain Fire - National Park Service Trail Closures

The Lone Mountain Fire in North Cascades National Park is approximately 5 mi NW of Stehekin in the Boulder Creek drainage. Boulder Creek Trail is closed. More »
Accessibility at Seattle City Light Tours, Diablo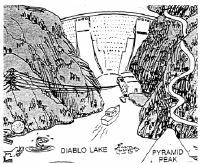 Guided tours of the Skagit Hydroelectric Project include a boat cruise on Diablo Lake available Thursdays through Mondays (no tours Tuesdays and Wednesdays) during July and August. Weekend-only Saturday and Sunday tours take place during June and September. For tour times and reservations, call the Skagit Tour Desk at 206-684-3030. Accommodations for persons with disabilities are available upon advanced request. Persons with hearing impairments can call the Washington State Telecommunications Relay Service at 1-800-833-6388. Visit the Skagit Tour's website at:
http://www.seattle.gov/light/tours/skagit
.
Did You Know?
Grizzly bear tracks can be a reliable indicator of species? Grizzly bear and black bear forepaw tracks are distinct from one another and often times better than a photo of the bear to confirm an observation. So don't just look up, look down.