Lone Mountain Fire - Trail Closures

The Lone Mountain Fire in North Cascades National Park is approximately 5 mi NW of Stehekin in the Boulder Creek drainage. Boulder Creek and War Creek Trails are closed. Rainbow Loop Trail is in-use as a staging area and closed to public use. More »
USFS closes Easy Pass Trail from State Route 20

Due to fire activity near the trail, the US Forest Service has closed the Easy Pass trail and trailhead on State Route 20. This area has been receiving precipitation. The highway remains open.
Accessibility at Seattle City Light Tours, Diablo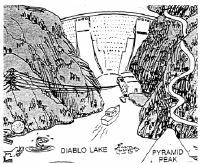 Guided tours of the Skagit Hydroelectric Project include a boat cruise on Diablo Lake available Thursdays through Mondays (no tours Tuesdays and Wednesdays) during July and August. Weekend-only Saturday and Sunday tours take place during June and September. For tour times and reservations, call the Skagit Tour Desk at 206-684-3030. Accommodations for persons with disabilities are available upon advanced request. Persons with hearing impairments can call the Washington State Telecommunications Relay Service at 1-800-833-6388. Visit the Skagit Tour's website at:
http://www.seattle.gov/light/tours/skagit
.
Did You Know?

There are more insects in the Park than any other group of animals; in fact, 95% of all animal species on earth are insects. Take your time to explore the breathtaking world of butterflies, beetles, and bugs. More...