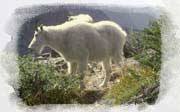 A mountain goat's typical day includes morning foraging, bedding during mid-day and then a prolonged feeding period in late afternoon to evening. The timing and length of these periods seems to depend on weather and temperature. During hot summer-days, afternoon bedding may continue until foraging areas become shaded: goats may then forage until well after dark, particularly if the moon is full. Winter activity patterns are similar, but due to colder weather and shorter periods of daylight, foraging may be longer and bedding periods shorter during the day.
Male and female mountain goats look similar, with shaggy white coats and curved black horns. They live in loose family groups of several adult females (nannies), with their kids and yearlings. Adult males (billies) may be tolerated in the summer, when food is plentiful, and during the autumn mating season. However, during the harsh winter months, the dominant nannies get the best wintering areas.
Survival in high alpine regions is a struggle. Mortality rates average 60-70 percent in the first year and 50 percent during the second year of life. Causes of high mortality include avalanches, falls, predation (cougar, golden eagles), parasites, and poor winter conditions causing stress. Mountain goats are mature in 2.5 years and live about 10 years in the wild.
Because of their life history characteristics, mountain goats are more vulnerable to population reductions than most ungulate species; it's harder for them to bounce back. Human presence can adversely affect mountain goats by causing them to use energy they would otherwise use to survive. Please keep a polite distance from any mountain goats you see and then come tell us about your experience!