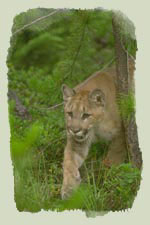 Natural History

Adult cougars weigh from 85-180 pounds, and may reach six to eight feet in length. The thick, expressive tail makes up about one-third of the total length. The coat is typically a tawny color, shading into red in the southwest or grey in the northern part of their range. The muzzle and chest are white, with dark triangular markings on either side of the mouth and a dark tail-tip.
Cougars are solitary animals, and come together only for mating. Cubs stay with their mother for up to two years. She is a playful and loving parent, teaching her young what they need to know to survive. Females first breed at 18-24 months of age, gestation is 92 days, and litters of cubs are born at two-to-three year intervals. Cubs are born with blue eyes and a spotted coat; the spots gradually fade and disappear completely by age two.
America's largest cat patrols a territory of 125-175 square miles, with female ranges a bit smaller and often overlapping the males'. Cougars mark their boundaries with "scrapes" consisting of a mound of dirt and forest litter, urine, and dung. These scrapes serve to warn other cats, and territories are defended by mutual avoidance rather than direct confrontation.