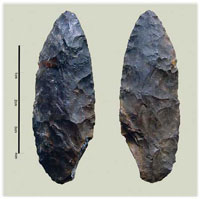 High Elevation Site Survey
The extensive sub-alpine terrain of the Pacific Northwest high country is an attractive landscape of forests, meadows and lakes. When we visit this setting, 5,000 to 7,000 feet or more above sea-level, we might hike or camp for a short period, but it's hard to imagine living in such a harsh, remote environment. Archeologists, however, recognize that people have been utilizing these higher elevations for thousands of years.
In 2001, archeologists from North Cascades, Mount Rainier and Olympic National Parks began working together on a three-year, high elevation archeological survey. Before the onset of this project, less than 5% of the high elevation terrain in the three Parks had been surveyed for archeological resources. The research partnership allows archeologists to compare the influence of different sub-alpine environments on sites and artifacts across the three mountain parks of the region.
This ability to share and compile databases allows the survey results to reveal how differences in locale shaped the settlement and subsistence strategies of native peoples who lived in or visited these mountainous areas. For instance, by looking at the variation in stone tool materials in relation to geological source areas, researchers can infer trade and travel routes and major resource use areas. Even the physical qualities of the different tool stone types influenced the kinds of tools made and the uses they were put to.
So far, this archeological effort has resulted in the discovery of over twenty previously unknown prehistoric sites, three historic sites, and dozens of newly discovered artifacts. Some artifacts appear to date to at least the mid-Holocene, about 7,000 or more years ago. These discoveries give archeologists a better understanding of early life at higher elevations and allow them to share with us a new appreciation of our region's long involvement with human groups.