Celebrating Art Inspired by the North Cascades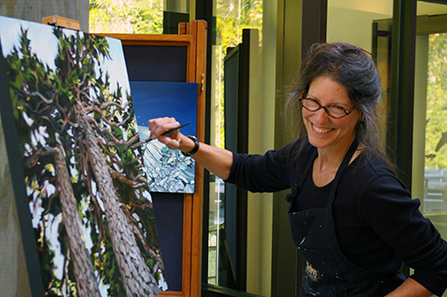 NPS Photo
In 2013, the popular Artist-in-Residence program at North Cascades reaches its ten year anniversary. The year is also the 45th anniversary of the designation of the park complex and the 25th anniversary of the Stephen Mather Wilderness that now covers 94% of North Cascades National Park. These anniversaries are causes for reflection and celebration. Nothing is more reflective than artwork inspired by America's public lands.

This year the park and the community will host traveling exhibits, workshops and community recognition of art through participating local artists, organizations and visitor centers.

Many people inspired by the wonders of the park will be represented in North Cascades Institute bookstores at park visitor centers. The "Poets on the Peaks," Gary Snyder and Jack Kerouac, wrote words which have inspired followers to come in search of the park's lookout towers and cloud-covered peaks. Tim McNulty has made its natural history the stuff of enchanted storytelling. Lee Mann, John Scurlock, Andy Porter and many others have captured the mysterious forests and the glacial crags in well-known photographs. The endangered owls will always endure in Robert Bateman's drawings. Becky Fletcher's dynamic Cascade Pass Triptych graces the North Cascades Visitor Center lobby as a portal into wilderness.

All applications for Celebrating Art of the North Cascades in 2013 will be due on the first of February and the first of July. After those dates, a panel of local park staff and community members will collaborate on the top ideas for inclusion in the park's program. Other art celebrations are encouraged to highlight the significances of the North Cascades.

Additional selection criteria will include:

Connecting gateway communities to park-inspired art.
Exposing youth and visitors to artistic impression inspired by the North Cascades.
Involving youth and families in creating art from their experiences in the North Cascades.

Applications for Fall are due July 1.

Skagit Artist-in-Residence
The
Skagit Artist-in-Residence
program will become a celebration of "Artists as Residents." Local artists and community members will have the opportunity to submit an
application
to implement ideas that include celebrations of art inspired by the North Cascades.
Stehekin Artist-in-Residence Application

Complete an application for a two to six week residency in Stehekin. Read More

Voices of the North Cascades

A new audio series that asks North Cascades staff to reflect on their national park. Read More

Skagit Artist-in-Residence Application

Cascading waterfalls, lush evergreen forests, large lakes, and alpine meadows inspire visitors in the Skagit District. Read More