NEW OPERATING HOURS

Effective 9.29.13: Visitor Center is CLOSED Mondays & Tuesdays. Wednesdays - Sundays, the Visitor Center will be OPEN 9 AM - 4 PM. Star Fort Pond is CLOSED 9 AM Sundays – 9 AM Tuesdays. Park grounds open dawn to dusk. Gates lock at 5 PM.
Special Events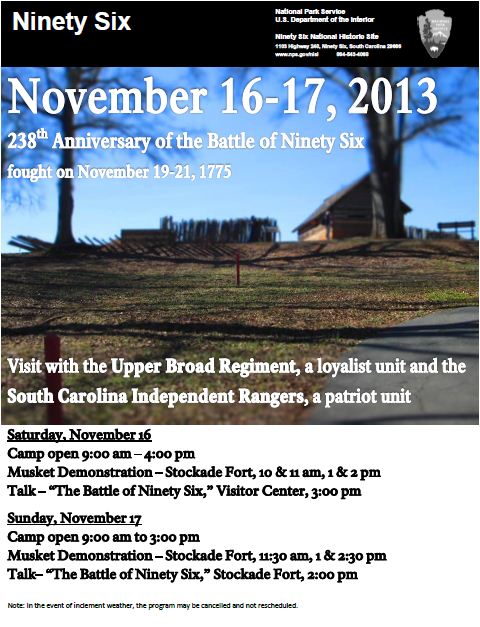 November 16-17: Living History Weekend
The Upper Broad Regiment and the SC Rangers will help commemorate the 238th anniversary of the Battle of Ninety Six.
December 7: Harvests and Holidays
Discover how colonists got through the winter months in the backcountry.
April 5 - 6, 2014: 96 Crossroads
October 11, 2014: Autumn Candlelight Tour

*Note: In the event of inclement weather, the events or programs may be canceled and not rescheduled.
Did You Know?

Andrew Pickens was originally from Pennsylvania. Nathanael Greene was from Rhode Island. "Light Horse" Harry Lee was from Virginia & Col. Thaddeus Kosciusko was from Poland. You can view oil paintings of these leaders & the battlefields where they fought at Ninety Six National Historic Site.