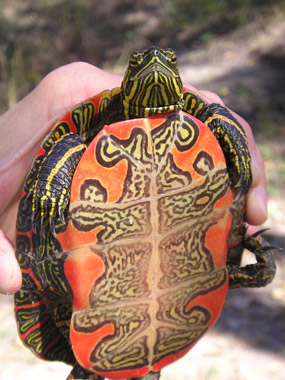 NPS photo
Reptiles occupy a special niche within the Niobrara Valley. Turtles are frequently observed while canoeing the Scenic River. Species such as snapping, painted, and spiny softshell turtles can be seen warming themselves on rocks or streambanks on a sunny day.
NPS photo
Of the several species of lizards in the valley, most are at or near the limits of their range.
The ringneck snake occurs in deciduous forest oriented areas of the valley and reaches its western limits there, while the eastern hognose snake also occurs in the valley and is otherwise only marginally distributed across the Sandhills. Other snakes commonly found in the area include prairie rattlesnakes, bull snakes, and red-sided garter snakes. Of the 13 species of snakes native to the valley, only the prairie Rattlesnake is venomous. They are most often found in rocky grasslands and on riverside cliffs.