Support Your Park
You can get involved and show your support of Nicodemus National Historic Site by volunteering, or if you're interested in volunteering at any of the other 401 units of the National Park Service you can visit the NPS volunteer website. Click here to find a unit of the National Park Service. For additional volunteer opportunities visit volunteer.gov.
You can also show your support by making a donation directly to the site at the address below.
Nicodemus National Historic Site
510 Washington Avenue #B1
Nicodemus, Kansas 67625
Did You Know?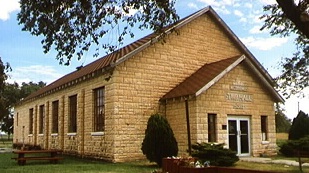 Twelve local men worked on constructing the 1939 (Work Progress Administration(WPA) Township Hall using stone quarried northwest of Penokee in Graham County.