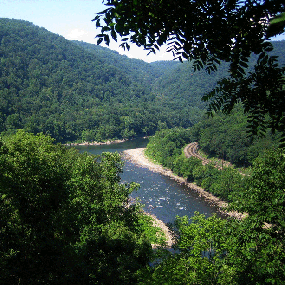 Dave Bieri
Rend Trail
(formerly Thurmond-Minden Trail)

The Rend Trail provides an easy stroll or bike ride along an abandoned branch line of the C&O Railway (Rend Line). This predominantly level trail crosses five railroad trestles and a short set of stairs that detour around an old rock slide. Several overlooks provide scenic views of Thurmond and the New River. This trail runs parallel with Dunloup Creek on the Thurmond end of the trail, where a few foundations of the town of South Boyd can be seen. Arbuckle Creek runs parallel with the trail at the Minden end.

more...

To reach the Thurmond Trailhead:
From U.S. Route 19 north of Beckley, take the Glen-Jean-Thurmond exit. Take an immediate left and go 0.5 miles to Glen Jean. Turn right and follow the signs for Thurmond (WV Route 25). The trailhead is on the left, 5.1 miles down WV Route 25.

To reach the Minden Trailhead:
Take the Main Street exit (Oak Hill) off U.S. Route 19. If coming south on Route 19, turn left and go 0.2 miles; if coming north on Route 19, turn right and go 0.1 miles. Turn left onto Minden Road and follow this for 2.1 miles. Take a right across a small bridge to the trailhead.