Things To Know Before You Come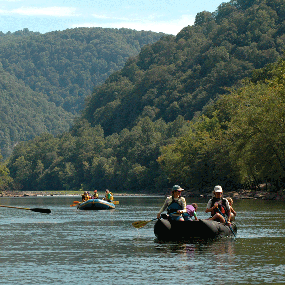 The park is 53 miles long. Having a good map is essential. A park map can be obtained at any park visitor center.
Many roads are narrow and winding. Allow extra time when exploring.
Two visitor centers operate year round, and two are open seasonally. Stop at one of the year round visitor centers, Canyon Rim, or Sandstone, if you visit in the spring, fall, or winter. Visitor centers at Grandview and Thurmond are seasonal, generally open from Memorial Day through Labor Day.
American Sign Language interpretation is available by request. Please call 304-465-0508 at least 14 days prior to your visit.
Pets must be on a leash throughout your visit.
Approximately 25% of the land within the park boundary is private property, including homes, farms, and the railroad right of way. Please respect the rights of private property owners.
Food, lodging, and full service campgrounds are plentiful in the gateway communities surrounding the park, including Hinton, Fayetteville, and Beckley. Check out the links page on this website for links to area attractions and local communities.
Primitive camping, on a first come - first serve basis, is available without charge at a number of locations within the park.
Park roads are open to motorized vehicles which are in compliance with state laws. All park roads are closed to vehicles that are designed for off-road use, such as an ATV. No vehicles are allowed off established roads within the park. Although off-road driving is not permitted at New River Gorge National River, you may check the National Park Service Off-Road Driving page for information about off-road driving in other parks, or download the Off-Road Driving brochure.
Check out the park's safety pages before visiting the park to insure that your visit is safe and enjoyable.


Did You Know?

The New River Gorge was logged extensively thoughout the past century. The landscape is now recovering, with the park ecosystem returning to its more natural state, but there are still plenty of signs of the past activities.