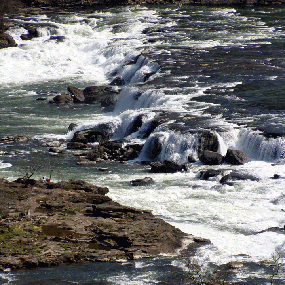 Dave Bieri
Your journey to view the falls will require some driving time, but it will take you along two of the park's most scenic roads, Route 20 from I-64 at the community of Sandstone, ten miles upstream to the town of Hinton, then downstream eight miles along River Road, the park's only scenic riverside drive. Both these routes offer several overlooks, historic sites, natural areas, trails, and river access points.

Most visitors will find the best starting point for their journey to Sandstone Falls at the Sandstone Visitor Center at the Sandstone exit 139 on I-64. The Visitor Center has excellent exhibits on the New River watershed, water resources, and natural and cultural history of the upper New River Gorge, plus park maps and information.

As you drive south, high above the river on Route 20 to Hinton you will pass two park vistas. The Sandstone Falls Overlook provides an aerial view of the falls from 600 feet above the river. Brooks Overlook looks down on the mile-long Brooks Island, a perennial bald eagle nesting site.

Hinton is the southern gateway to New River Gorge National River. A once booming railroad center, the town has a large historic district, railroad museum, antique shops, and restaurants.

After crossing the bridge at Hinton you will begin driving alongside the New River down River Road. There are great riverside vistas, several river access points, a trail, picnic area and small boardwalk view at Brooks Falls, a powerful Class III rapid. The journey ends at the Sandstone Falls day use area, where you begin your walk along the boardwalk and bridges that span the two islands below the falls.