Science Youth Nature Camp

SYNCing Youth With Nature is a 3-day, day camp that engages 5th, 6th, and 7th grade students in a series of hands-on activities to explore and learn about the natural world, the forest, wildlife, and the river.
This program is FREE. There is no cost for students to attend!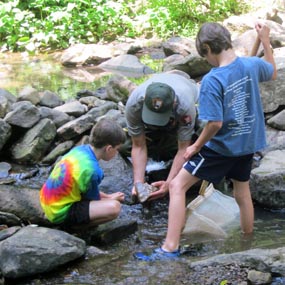 Where: Grandveiw at the New River Gorge National River
When: July 14, 15 and 16, 2015
Time: 8:30 a.m to 4:00 p.m. daily
Who: 5th, 6th and 7th grade students (first 30 students/camp accepted)
Pick up/Drop off: A FREE bus will pick students up each day at Woodrow Wilson High School in Raleigh County.
Lunch: Students need to pack their own lunch and snacks each day. Water and lemonade will be provided.
Clothing: Students will be outside all day.
* Bring sunscreen
* Dress for the weather.
* Closed-toed shoes required
* No flip flops or sandles
For more information contact Mark Bollinger at 304-640-8731; e-mail us