Ranger Programs
Ranger-led activities provide an opportunity to learn more about the natural world around us and the people who shaped our past. Discover the diversity of nature in the gorge, learn about the rich cultural history of coal mining, railroading, logging, and subsistence farming, learn how to be safe on the river, or join a ranger for a guided hike. Programs are offered throughout the year, but primarily during the spring, summer, and fall months. All programs are free of charge and everyone is welcome.

Throughout the year groups may arrange programs as staffing permits. Please call or email the park if you would like a park ranger to present a program for your group.

Upcoming Programs and Events: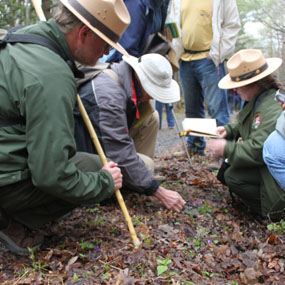 2014 New River Gorge Wildflower Weekend
April 25-27, 2014

Celebrate the glories of Appalachian spring from the rim of the gorge to the river! Explore the area's natural diversity at programs in New River Gorge National River, Babcock State Park, Hawks Nest State Park, Little Beaver State Park, Pipestem Resort State Park, and Tamarack. Wildflower Weekend is scheduled for April 25-27, 2014. more...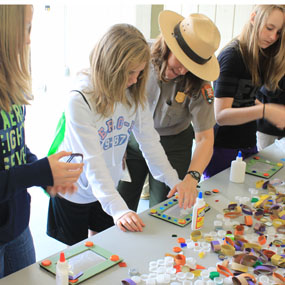 Youth Arts in the Parks Nature Festival
April 8th and 9th, 2014
Spring is finally in the air, and the time for the Youth Arts in the Parks Nature Festival is almost here! This free event for middle school students grades 6 - 8 will be conducted at Grandview in New River Gorge National River on April 8th and 9th, 2014. Through this event, students will discover the diversity of Appalachian ecology through an exploration of the park and a day of artistic, educational activities.
more...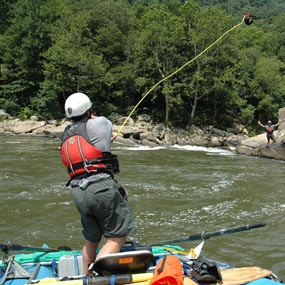 ACA Swiftwater Rescue Training - Level 4
May 17-18, 2014
Times: 9:00AM – 5:00PM
Space Availability: 15 people
Prerequisites: Experience on whitewater rivers up to class III.
Equipment: - PFD for whitewater use in good condition(Type III or Type V), whitewater helmet, protective footwear, protective clothing for cold water/weather(wetsuit, splash gear, synthetic under layers), throw bag, whistle, knife, 3 locking carabineers, and 2 prusicks.
This class is designed as an intermediate swiftwater rescue workshop teaching recognition and avoidance of common river hazards, execution of self-rescue techniques, and rescue techniques for paddlers in distress. Emphasis is placed on personal safety and on simple, commonly used skills. Techniques for dealing with hazards that carry greater risks for both victim and rescuer, such as strainers, rescue vest applications, entrapments, and pins, also are practiced. Scenarios will provide an opportunity for participants to practice their skills both individually and within a team/group context. Participants should be prepared to be in the cold, wet river environment for skills practice and to swim in Class II – Class III whitewater.
This class is free. Registration deadline is May 2, 2014. For registration and additional information contact:
Matt McQueen - matt_mcqueen@nps.gov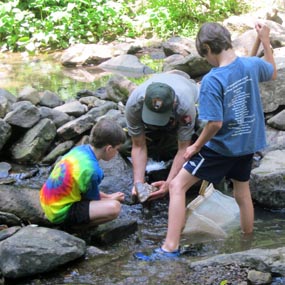 Science Youth Nature Camp:

SYNCing Youth With Nature is a day camp that engages 5th and 6th grade students in a series of hands-on activities to explore and learn about the natural world. The three day camp will be offered on two different occasions. Students can sign up for April 15, 16, and 17 (spring break) or June 17, 18, and 19 (summer). more…

Did You Know?

The New River Gorge was logged extensively thoughout the past century. The landscape is now recovering, with the park ecosystem returning to its more natural state, but there are still plenty of signs of the past activities.