Carey Woods
Ranger-led activities provide an opportunity to learn more about the natural world around us and the people who shaped our past. Discover the diversity of nature in the gorge, learn about the rich cultural history of coal mining, railroading, logging, and subsistence farming, learn how to be safe on the river, or join a ranger for a guided hike. Programs are offered throughout the year, but primarily during the spring, summer, and fall months. All programs are free of charge and everyone is welcome.

Throughout the year groups may arrange programs as staffing permits. Please call or email the park if you would like a park ranger to present a program for your group.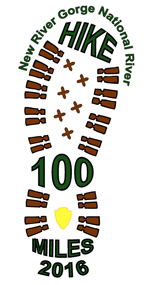 100 Mile Challenge Start-up Hike
January 2, 2016
10:30-12:30

Start off the New Year with a fun and healthy hike in the park. Join a ranger for a 3.2 mile hike on the Grandview Rim Trail to Turkey Spur and back. Be prepared for a moderate hike with breathtaking views from the rim of the New River Gorge. Meet at 10:30 at the Grandview Visitor Center.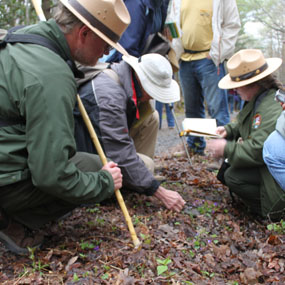 Wildflower Weekend
April 22-24, 2016

Are you ready for spring? Celebrate the glories of Appalachian spring from the rim of the gorge to the river at the Thirteenth Annual New River Gorge Wildflower Weekend, April 22 to 24, 2016! Explore the area's natural diversity at programs in New River Gorge National River, Babcock State Park, Hawks Nest State Park, Little Beaver State Park, Pipestem Resort State Park, and Tamarack.
All programs are free! Bring water and wear sturdy hiking shoes for guided walks. Snacks, binoculars, a hand lens, and a favorite field guide are also useful.
more...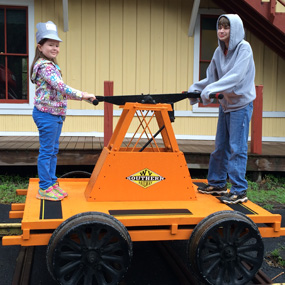 Thurmond Train Day
July 16, 2016

Discover what life was like in one of the New River Gorge's most renowned towns! Join National Park Service rangers and Operation Lifesaver on Saturday, July 16th, 2016 from10:00 AM –2:00 PM to explore the historic railroad town of Thurmond and to learn safety tips for rail crossings and along the railroad tracks. The National Park Service, the Thurmond Performance Team, and Operation Lifesaver are partnering to sponsor the third annual Thurmond Train Day for visitors of all ages to come and go as you please. more...