Carey Woods
Ranger-led activities provide an opportunity to learn more about the natural world around us and the people who shaped our past. Discover the diversity of nature in the gorge, learn about the rich cultural history of coal mining, railroading, logging, and subsistence farming, learn how to be safe on the river, or join a ranger for a guided hike. Programs are offered throughout the year, but primarily during the spring, summer, and fall months. All programs are free of charge and everyone is welcome.

Throughout the year groups may arrange programs as staffing permits. Please call or email the park if you would like a park ranger to present a program for your group.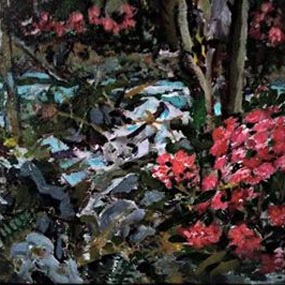 Plein Air (Outside Painting) with Cecil Glenn Runions

When you are out in the park, watch for park volunteer "Resident Artist" Cecil Glenn Runions, who will be around the park doing Plein Air (outside painting) in watercolor and acrylic painting. Cecil has studied art at Concord University and teaches art classes for the Beckley Art Group. He will be painting throughout the park. If you see him, stop by and chat.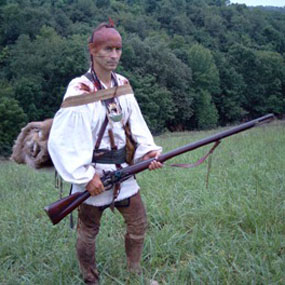 18th Century Eastern Woodland Indian Survival Techniques
September 5, 2015 from 10 am to 4 pm
Sandstone Visitor Center
Join the Living History Interpreters of Trails Inc. as they share some of the survival skills used by 18th Century Shawnee, Delaware, Mingo, and Cherokee hunting parties as well as skills used by their predecessors in prehistoric times. Topics will include useful wild plants, useful animal products, tools of stone, bone, and wood, finding water, making fire, and making shelter. Local living history educators Ronald, Gwendolyn, and Roslyn McAllister will join Dianne Anestis and Doug Wood to engage visitors in interactive demonstrations.
At 3:00 pm, Cherokee War Leader, Ostenaco (portrayed by Doug Wood of the WV Humanities Council History Alive! program) will council with visitors at the Visitor Center to discuss how his army and the Virginia militia forces survived the difficult winter campaign of 1756-57 against the Shawnees through southwestern Virginia and West Virginia.
In inclement weather, the demonstrations will be moved indoors. Bring your own family stories of your ancestors to share with the interpreters. Visitors of all ages are welcome.
September 2015 Activity Schedule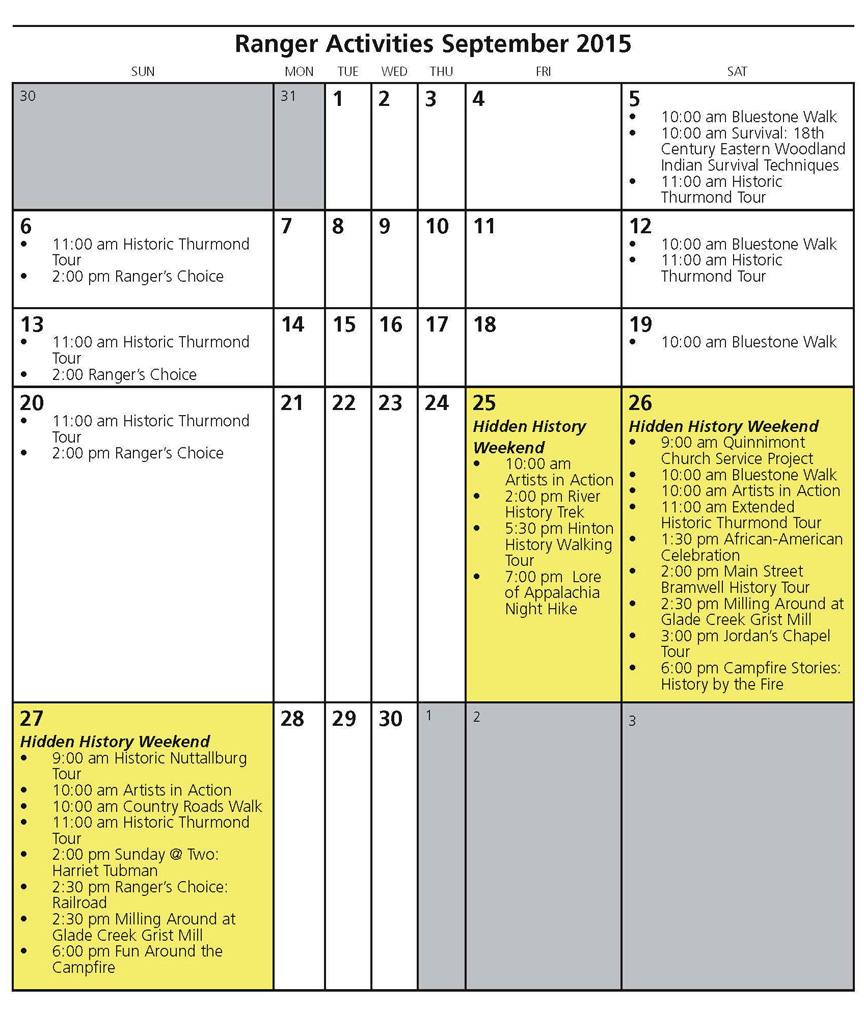 Ranger's Choice
1.5 to 2 hours
Every Sunday, 2:00 pm - 3:30 pm
LOCATIONS: Canyon Rim Visitor Center in Lansing
Come and go as you please for this informal talk with a ranger. Topics and hands-on exhibits vary with every program, each focuses on a different aspect of recreation, natural history, or cultural heritage of the New River Gorge.
Bluestone Walk
1.5 hours, 2 miles
Every Saturday, 10:00 am to 11:30 am
LOCATION: base of Pipestem Resort State Park tramway
Meet a ranger at the bottom of Pipestem's tramway to walk within Bluestone National Scenic River for a mile and return. Along the way, enjoy the flora and fauna of the area and discover regional history. Bring $2.25 for the return tram ride.
Historic Thurmond Walking Tour
30 minutes to 1 hour, 0.5 miles
Every Saturday and Sunday, 11:00 am to 12:00 pm (Additional tours during July 18 Thurmond Train Day event - 10:00 am, 11:00 am, 12:00 pm, and 1:00 pm.)
LOCATION: Thurmond Depot Visitor Center
What was life like in one of the New River Gorge's most renowned towns? Meet a ranger in Thurmond's
Survival: 18th Century Eastern Woodland Indian Survival Techniques
6 hours
Saturday, September 5, 10:00 am to 4:00 pm
LOCATION: Sandstone Visitor Center
Step back in time to the 1700s as liviing hsitory interpreters share survival skills of the Eastern Woodland Indians, including Shawnee, Delaware, Mingo, and Cherokee, as well as their predecessors of prehistoric times. Topics will include useful wild plants and animal products, tools (stone, bone, and wood), and survival skills of that time, such as finding water, making fire, and making shelter.

3:00 pm: Ostenaco, a Cherokee War Leader. Take council with this historic leader and hear how his army survived the difficult winter campaign of 1756-57. Ostenaca will be portrayed (first-person living history) by Doug Wood of the West Virginia
Hidden History Weekend
Celebrate the wonders of Appalachian heritage, the rich sites and stories of our area's diverse history! These free programs will take place at New River Gorge National River, the National Coal Heritage Area, Tamarack, and Babcock, Carnifex Ferry Battlefield, Pipestem Resort, and Twin Falls Resort State Parks. See the detailed event schedule at www.nps.gov/neri.

Here is an overview of this year's event:

Friday, September 25
Artists in Action
River History Trek
Hinton History Walking Tour
Lore of Appalachia Night Hike

Saturday, September 26
Quinnimont Church Service Project
Bluestone Walk
Artists in Action
Extended Historic Thurmond Tour
African-American Heritage Celebration
Main Street Bramwell History Tour
Milling Around at Glade Creek Grist Mill
Jordan's Chapel Tour
Campfire Stories: History by the Fire Presented by David "Bugs" Stover

Sunday, September 27
Historic Nuttallburg Tour
Artists in Action
Country Roads Walk
Historic Thurmond Tour
Sunday @ Two: Harriet Tubman
Ranger's Choice: Railroading
Milling Around at Glade Creek Grist Mill
Fun Around the Campfire Presented by Youth Arts in the Parks