Cunard Road construction completed

Construction on the Cunard Road has been completed and the road is now open. Access may be delayed at times while striping is being painted.
Rend Trail closure

Repairs to the stone retention wall will cause closures from June through September, 2013. More »
Ranger Programs
Ranger-led activities provide an opportunity to learn more about the natural world around us and the people who shaped our past. Discover the diversity of nature in the gorge, learn about the rich cultural history of coal mining, railroading, logging, and subsistence farming, learn how to be safe on the river, or join a ranger for a guided hike. Programs are offered throughout the year, but primarily during the spring, summer, and fall months. All programs are free of charge and everyone is welcome.

Throughout the year groups may arrange programs as staffing permits. Please call or email the park if you would like a park ranger to present a program for your group.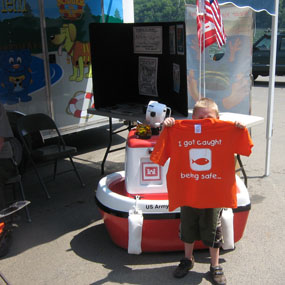 Water Safety Weekend in the New River Gorge
May 25 - 27, 2013

This Memorial Day Weekend (May 25 - 27, 2013), the National Park Service at New River Gorge National River and the U.S. Army Corps of Engineers at Bluestone Lake will present their annual Water Safety Weekend to help visitors safely prepare for the season's activities on area rivers and lakes. Join us for a weekend of ranger-led activities that will demonstrate simple water safety practices that everyone can use to protect their family and friends when recreating in or around area waterways. Check the Water Safety Weekend page for more information and for the full program schedule. more...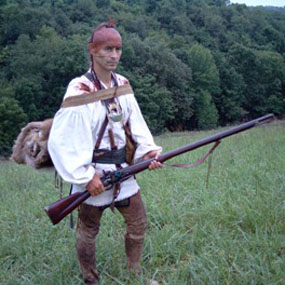 The Roots of Un-Civil War: The 250th Anniversary of Cornstalk's Campaign
July 6, 10AM-3PM -
The Roots of Un-Civil War: The 250th Anniversary of Cornstalk's Campaign at Sandstone Visitor Center of New River Gorge National River. 18th century warrior camp outdoor setting. Living history interpreters will highlight Shawnee women's and men's social roles. The center's theater will house a powerpoint presentation on 18th century Shawnee culture and history. Some interpreters will focus on regional agricultural and wild gathering cultural practices inherited from the 18th century Shawnee, as well as lead a medicinal, edible, useful plant fiber walk to highlight Shawnee knowledge of native plant uses. Other interpreters will demonstrate warrior/hunter skills, including communication signs and symbols, trail food preparation, tracking prowess, and long-distance travel techniques, with a focus on regional trails, including the one that crossed New River in the viewshed of the visitor center.
Download the full schedule of 250th Anniversary of Cornstalk's Campaign events.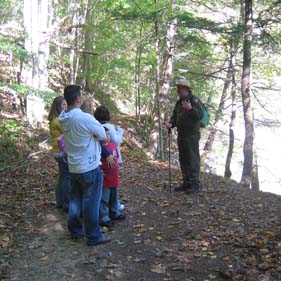 Bluestone National Scenic River Walk
Join a ranger for a two-mile round trip hike through Bluestone National Scenic River. Walks begin on May 25 and run through October - every Saturday morning at 10:00. Meet at the bottom of the tramway at Pipestem Resort State Park for a fairly easy walk along the Bluestone River with a few small hills and some rough footing. Along the way, enjoy the flora and fauna of the area and discuss a little regional history. Bring good walking shoes, drinking water, and $2.00 for the return tram ride. more...



Did You Know?

Over one million visitors come to New River Gorge National River each year. Park rangers assist visitors and help them better understand the park and the park resources.