Carey Woods
Ranger-led activities provide an opportunity to learn more about the natural world around us and the people who shaped our past. Discover the diversity of nature in the gorge, learn about the rich cultural history of coal mining, railroading, logging, and subsistence farming, learn how to be safe on the river, or join a ranger for a guided hike. Programs are offered throughout the year, but primarily during the spring, summer, and fall months. All programs are free of charge and everyone is welcome.

Throughout the year groups may arrange programs as staffing permits. Please call or email the park if you would like a park ranger to present a program for your group.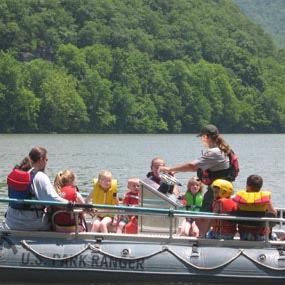 2015 Water Safety Weekend
May 23 to 25, 2015
Get ready for a summer of fun water adventures at New River Gorge National River by learning how to stay safe on the water. Ranger led activities will demonstrate water safety practices that everyone can use to protect their family and friends when recreating in or around the water.
Check out the Water Safety Weekend page for more information and for a complete schedule of events.