Ranger Programs
Ranger-led activities provide an opportunity to learn more about the natural world around us and the people who shaped our past. Discover the diversity of nature in the gorge, learn about the rich cultural history of coal mining, railroading, logging, and subsistence farming, learn how to be safe on the river, or join a ranger for a guided hike. Programs are offered throughout the year, but primarily during the spring, summer, and fall months. All programs are free of charge and everyone is welcome.

Throughout the year groups may arrange programs as staffing permits. Please call or email the park if you would like a park ranger to present a program for your group.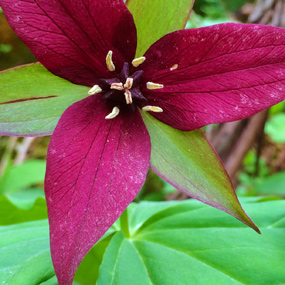 Lily Burr
2015 Wildflower Weekend
April 24 to 26, 2015
Celebrate the glories of an Appalachian spring in New River Gorge National River, Babcock,Hawks Nest, Little Beaver, Pipestem Resort, and Twin Falls Resort State Parks, and at Tamarack. Wildflowers will be blooming from the rim of the gorge to the river. Join rangers and naturalists in exploring these jewels of nature and the region's diverse ecology! Check back soon for the full schedule.
Check out the Wildflower Weekend page for more information.