Biking Safety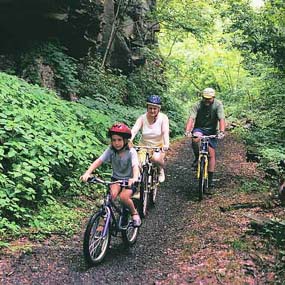 New River Gorge National River has over 21 miles of mountain biking trails, which vary from easy to moderate in terrain and distance. A bike trip a can be a fun filled day as long as you stay safe.
Safety tips:
· Plan ahead - check local weather conditions for the day.
· Wear a helmet.
· Carry a small first aid kit with bandages for cuts and abrasions
· Drink plenty of fluids (no alcohol or caffeine)
· Do not enter structures, mines, or coke ovens.
· Stay on the trail.
· Control your speed; trails are not always frequently maintained, and hazards may exist.
· In case of emergency call 911.
· Tell someone where you are going and when you plan to be back
· Hunting is permitted in the park; blaze orange clothing is recommended during hunting season.
· Watch where you put your hands and feet; poison ivy, copperheads, and timber rattlesnakes live in the park.
· After biking check yourself for ticks.
Trail Regulations:
· All trash must be carried out.
· Bicycles are permitted on designated trails only.
· Pets must be restrained and leashed.
· Always stay on trail.
Did You Know?

You can "catch a train" to visit the park! The AMTRAK Cardinal travels through New River Gorge on its route from New York, NY to Chicago, IL.