Mill Creek and the Harrah Farm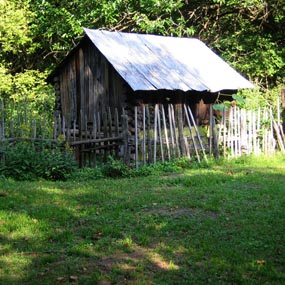 At one time subsistence farms were commonplace on bottomlands and upland benches along the New River Corridor. People hunted, fished, gathered food, raised livestock, and farmed these areas to supply their basic necessities. Excess fruits, vegetables, eggs, and livestock were sold to purchase the family's other needs. These farms were an important aspect of economics throughout the centuries prior to and after the Industrial Revolution.
Mill Creek and the Harrah Farm was a subsistence farm area that was active until the late 1980s. The Harrah homestead was strategically positioned on a flat, fertile area beside Mill Creek, a once major route from Grandview Top to Grandview Bottom. As early as the 1800s, this area was used by settlers along the New River. The Harrah families were the last residents.