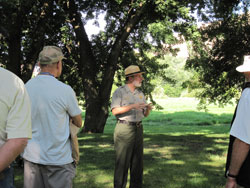 NPS Photo.
At a number of park sites there are short trails that allow visitors to interact with the park's resources:

Spalding Site
There are four short interpretive trails that run through the historic area. We have a map available of the trail system and a guide for the river trail. Restrooms and picnic tables are available.

Heart of the Monster
There is a short interpretive trail that provides a Nez Perce and English language interpretation of the story of Coyote's battle with a monster. Restrooms and picnic tables are available.

Canoe Camp
A short interpretive trail meanders through the site where the Lewis and Clark expedition built canoes in 1805. Restrooms are available.

Buffalo Eddy
A short interpretive trail leads visitors to the petrogylphs and pictographs. No facilities.

Whitebird Battlefield
Walk on the site of the first clash of the Nez Perce War of 1877. Round trip is approximately 1.5 miles and a trail guide is available. The battlefield can be very hot in the summer months. Please bring plenty of water. There are no facilities.

Big Hole National Battlefield
On August 9, the U.S. Army attacked the Nez Perce camp at Big Hole, resulting in heavy losses for the Nez Perce. They rallied and besieged the troops, allowing the Nez Perce families to escape. The battlefield has a series of trails that run through the battlefield. For more information, please visit the park's website. Restrooms and visitor center.

Bear Paw Battlefield
The last battle of the 1877 war occurred here. A one mile trail allows access to the battlefield. Vault toilets are available on the battlefield.