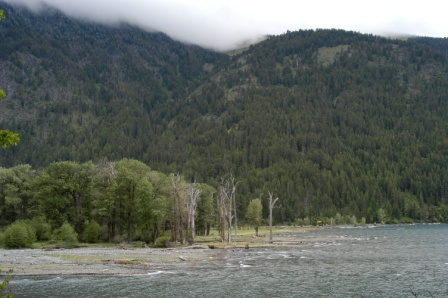 NPS Photo
In this breathtaking up-and-down country, temperature and climate vary as much as the terrain does, providing a rich seasonal variety of plants and animals. It has been said that a person can experience summer heat in the depths of a canyon, while partway up cool breezes blow and at the top snow will be falling. Summer precipitation is often sparse in the lower country, the rain and the heavy upland winter snowfalls provide adequate moisture for the development of some of the nation's lushest natural grasslands, the sustenance, in turn, of large numbers of deer, elk, and other animals.
Historically, after staying close to the village in winter, in spring the Nez Perce resumed their organized pattern of seasonal movement, traveling to specific areas in a planned sequence. The areas to which they traveled were based primarily on the seasonal availability of plants, animals, and fish. The general pattern was to move higher in elevation as the season progressed, following the availability of maturing roots and berries. By late summer, most of the people were in the mountains, and in the autumn they returned to the river valleys in time for the fall fish runs.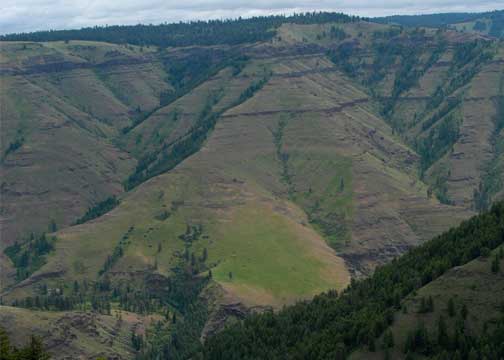 NSP Photo
The following sections explain the climate in each park ecoregion.
Shortgrass Prairie: Park sites on the Palouse Grasslands lie in the rain shadows of the Cascade Mountains, thus they are in a semiarid regime. Precipitation averages less than 15 inches per year and is generally received during the winter season
Sagebrush Steppe: Sagebrush steppe is characterized by the plains and tablelands of the Columbia and
Snake River Plateaus. The climate on these mid-elevation (3,000 feet) plateaus is semi-arid and cool. The average annual precipitation is about 16 inches, with precipitation distributed fairly evenly from fall to spring.
Conifer/Alpine Meadows: Severe winters in the higher elevations are usual in these areas. Winter temperatures frequently drop below 32 degrees F, and summer highs may reach only 70 degrees F. Temperature and snowfall vary greatly with elevation. Precipitation varies from 20 to 40 inches per year and comes predominantly in snowfall during the winter months.