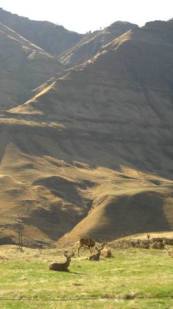 NPS photo
The shortgrass prairies of Nez Perce National Historical Park support an abundance of wildlife. Cottontail rabbits, ground squirrels, coyotes, bobcats, and skunks abound in these grasslands.
The two Montana park sites, Bear Paw and Big Hole National Battlefield, were once the home of large herds of bison, which the Nez Perce traveled to hunt. Pronghorn antelope are now the most common large mammal, but deer may be found along stream channels where brush cover is available. Whitetail jackrabbits, desert cottontail, ground squirrels, coyotes, and badgers are common.
Many wildlife species also use sagebrush steppe areas as seasonal habitat, particularly during the winter. Larger mammals found in these areas are coyote, pronghorn antelope, mountain lion, and bobcat. Smaller species include ground squirrels, deer mouse, and porcupine. Severe winters may force elk and mule deer from higher elevations to these plateaus.
Some of the larger mammals in conifer/alpine meadows are elk, deer, moose, black bear, mountain lion, beaver, and porcupine. Small mammals include flying squirrel, marten, chipmunks, and woodrats.