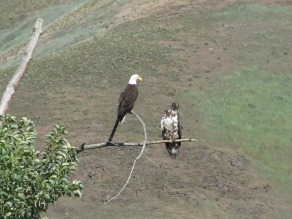 NPS Photo
Shortgrass prairie park sites such as Hasotino Village Site, Looking Glass Camp, Musselshell Meadow, Spalding, Tolo Lake, and White Bird Battlefield support hawks, along with smaller birds such as the lark bunting (Passerina amoena), the horned lark (Eremophila alpestris), and the meadowlark (Strunella neglecta).
The geography of sagebrush steppe park areas support habitat this is important for many species of migratory waterfowl. Mallards (Anas platyrhynchos), use the area for breeding and resting. Other birds are bald eagle (Haliaeetus leucocephalus), Swainson's hawk (Buteo virginianus), burrowing owl (Athene cunicularia), killdeers (Charadrius vocifercus), and western kingbirds (Tyrannus verticalis).
Some bird species found in conifer/alpine meadow areas are mountain bluebird (Sialia currucoides), red-breasted nuthatch (Sitta Canadensis), ruby-crowned kinglet (Regulus calendula), pygmy nuthatch (Sitta pygmaea), Steller's jay (Cyanocitta stelleri), and Clark's nutcracker (Nucifraga Columbiana). A wide variety of migratory birds, including bald eagles, peregrine falcons (Falco peregrines), and sandhill cranes (Grus Canadensis), use an assortment of habitats, but the greatest numbers are seen in riparian areas. Hawks and owls can be seen in most of the region. Blue (Dendragapus obscurus) and ruffed grouse (Bonasa umbellus) and quail (Callipepla californica) are common game birds.
Bird feathers are important to the Nez Perce and, by law, should not be collected within the park.