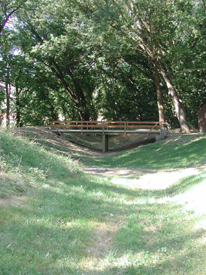 Nez Perce National Historical Park
The Spaldings Saw Mill and Grist Mill
For generations, the rhythms of Nez Perce life was governed by the seasons - moving to higher elevations in the summer and wintering in the river valleys. This went against Henry Spalding's sensibilities. He wanted his flock to remain near the mission complex year round, raising the food they needed in farms.
To accomplish this, he quickly acquired farm implements and, rather than depend upon others to make flour, he took steps to make his own. Beginning in 1839, he enlisted the help of his Nez Perce supporters to build a mill race and canals to irrigate his fields and operate the grist mill. The mill race directed water from Lapwai Creek to the mill, a distance of a half mile.
In the spring of 1840, the granite for grind stones was found up the Clearwater River near the present site of Dworshak Dam. Spalding began to process his own flour after the grindstones were completed, in the late spring of 1840. In tandem with the grist mill was a sawmill. The mill was in sporadic operation and dismantled in 1846.
The Memorial Grove
When Spalding built his mission here in 1838, the site was barren of trees. The current appearance of the historic area is one of the legacies of the centennial anniversary of the Spalding's arrival in the Lapwai Valley.
After placing a memorial to the Spalding mission and fencing off the remains of Spalding's home, the Daughters of the American Revolution lobbied to have the state create a park preserving the mission site, which occurred in 1936. Following the state's action, the Idaho Bureau of Highways landscape engineer, W.S. Thornber designed a memorial grove of trees, plans and shrubs from across North America and Europe. Of the original thirty-five species of trees planted, twenty-two remain including several oak, spruce, and pine varieties.