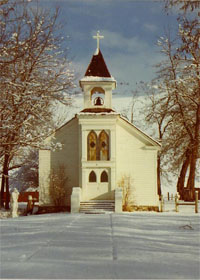 Nez Perce National Historical Park Historic Image Collection NEPE-HI-0418
Protestant missionaries had an established presence in Nez Perce country for over twenty years when Father J.M. Cataldo arrived in the area in 1867. Despite fierce competition from some of the Protestant Churches on the reservation, Cataldo was successful in establishing St. Joseph's mission, the first Roman Catholic mission to serve the Nez Perce people. A local Nez Perce leader known as Chief Slickpoo, gave permission to establish a mission on the lands used by his band.
While Father Cataldo would leave once the mission was established, and would go on to establish Gonzaga University, a large mission complex grew on the site. One of the first structures to be built was a chapel was built in 1868, but a permanent location was not established until construction of Saint Joseph's Mission was completed at a more secluded site in 1874. The mission closed in 1958 and most of the buildings are now gone, however, the chapel has been preserved and is still standing today. Please note, the chapel is privately owned and is closed to the public.