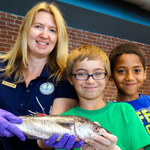 Something Fishy Summer Camp
New Bedford Whaling National Historical Park and the Working Waterfront Festival team up every year to offer 2 one-week summer camp programs for New Bedford children ages 9-10 (entering grades 4 & 5 in the fall of 2015). Designed to give kids an introduction to the history and culture of the working port from whaling days to the present, camp activities will include: hands-on marine science, arts and crafts, daily fieldtrips, chantey singing and more. Look here for camp applications for 2015.

Youth Leadership Academy (YLA)
Looking for a program that prepares high school students for employment and volunteer opportunities in the National Park Service and other community organizations? YLA fills in this vital need while building community and National Park pride in anticipation of the NPS Centennial in 2016. This multi-year project aimed at 9th grade students and consists of 10 week sessions held over 3 years. Students will develop a business plan to foster civic engagement via a community contest and culminate in an awards show. Interested? Apply now, encourage someone you know to apply, and please share this opportunity. Applications are due March 3, 2014. Project partners include: Leadership SouthCoast, Charlton College of Business at UMass Dartmouth, The Marion Institute, 3rd EyE Youth Empowerment, New Bedford Guide and New Bedford Whaling National Historical Park.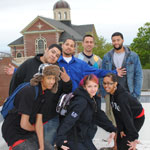 Youth Ambassador Program (YAP!)
YAP! is a partnership program between the park and Third EyE Unlimited Youth Empowerment where teens communicate national park themes through hip-hop culture and social media outreach. This includes creating music and videos about local, regional, and national park themes, and sharing them via numerous social media sites. More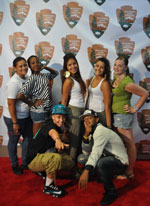 Park Stewards Program
The Park Stewards program gives teachers and students the opportunity to participate in meaningful and educational hands-on experiences in national parks. By encouraging high school students to develop strong connections with the outdoors and cultural history, the Park Stewards program helps to ensure that our parks will continue to be protected and preserved by future generations of park stewards.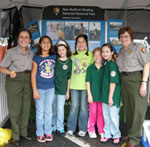 Junior Ranger Service Corps
The Junior Ranger Service Corps is a group of young people who like to learn about their community, its history, and its future and then share their knowledge and talents with others.