Youth Ambassador Program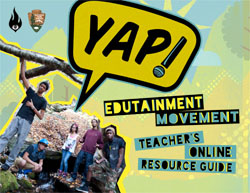 YAP! Teacher's Online Resource Guide
This online resource guide was designed to accompany YAP!'s debut album, "Edutainment Movement." The guide includes links to videos, songs, and National Park Service lesson plans related to topics covered on the album. Download the interactive pdf to dig deeper into topics such as whaling history, the 54th Regiment, whaling history, and more. For best results open the document in Adobe Reader or Adobe Acrobat.


 

After being invited to D.C. during the summer of 2013 for a week-long experience, the Youth Ambassadors took on every opportunity and challenge they encountered. The impact of what they felt, saw, learned and did is evident throughout "The North Star Journey" and their newest song, "North Star."

Duration:

1 minute, 56 seconds

Credit/ Author:

Youth Ambassador Program

Date created:

2014-02-28

Download Original File:

 

 

 

 

 

"Everywhere We Go," music video by YAP! "No matter where we go, what we see, every city every country got their history..."

Duration:

4 minutes, 19 seconds

Credit/ Author:

New Bedford Whaling National Historical Park's Youth Ambassadors

Date created:

2010-09-20

 

Having Trouble Viewing Videos?
Check out YAP!'s official Youtube Channel

 

YAP! is Social!
Want to see more from the Youth Ambassador Program? Check us out on all of these social media sites where you can friend us, download free music, view pictures and videos, and join the conversation.
Facebook
Youtube
Twitter
ReverbNation
FLICKR