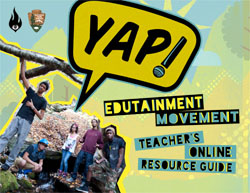 YAP! Teacher's Online Resource Guide
This online resource guide was designed to accompany YAP!'s debut album, "Edutainment Movement." The guide includes links to videos, songs, and National Park Service lesson plans related to topics covered on the album. Download the interactive pdf to dig deeper into topics such as whaling history, the 54th Regiment, whaling history, and more. For best results open the document in Adobe Reader or Adobe Acrobat.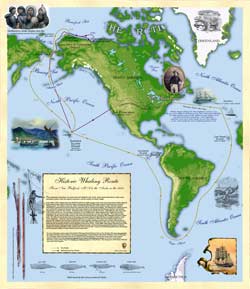 Historic Whaling Route

This map shows two routes from New Bedford to the Arctic. Many factors determined a ship's route, including weather, wind, the captain's experience, and the number of whales caught. This is a great classroom tool to illustrate the global scale of a typical whaling voyage. Download now
Teachers interested in a hard copy of the whaling routes map can contact the Visitor Services Specialist at (508) 996-4095 extension 6108 while supplies last.