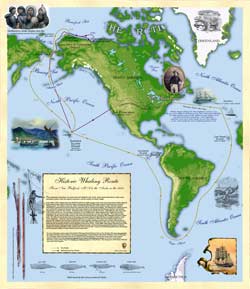 Historic Whaling Route

This map shows two routes from New Bedford to the Arctic. Many factors determined a ship's route, including weather, wind, the captain's experience, and the number of whales caught. This is a great classroom tool to illustrate the global scale of a typical whaling voyage. Download now
Teachers interested in a hard copy of the whaling routes map can contact the Visitor Services Specialist at (508) 996-4095 extension 6108 while supplies last.