Portion of National Scenic Trail Near Tupelo Closed to Hikers

Part of the Natchez Trace National Scenic Trail (NOT the Parkway) near Tupelo, MS, has been closed until 2015 due to construction under Tupelo's Major Thoroughfare Construction Project. Parkway travelers may expect delays, but no detours are expected. More »
Tupelo Bicycle-Only Campground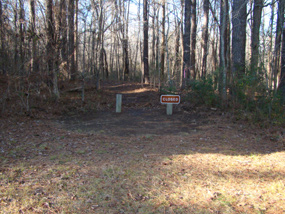 NPS photo.
At milepost 266, near the Parkway Headquarters, this bicycle-only campground provides a place to set up your tent.
The campground is located directly across the Parkway from the Parkway Visitor Center. Travel west on the access road located at the south end of the Visitor Center parking lot. Travel to the scenic trail parking lot, located on the left hand side of the road. Across the road is a small trail, marked with a closed sign. This area is open to bicyclists only. Follow that trail to the bicycle-only campground, which includes picnic tables, fire rings, grills, water (April through October), and pit toilets. Visitor Center restrooms are open for 8:00 am to 5:00 pm daily.
**Water is currently unavailable at the Tupelo bicycle-only campground. Water is available across the Parkway at the Parkway Visitor Center.**
Access a map of this section of the Parkway.
Did You Know?

Meriwether Lewis, of the Lewis and Clark Expedition, was governor of the Upper Louisiana Territory when he died on the Natchez Trace in 1809, at Grinder's Stand in Tennessee. A monument was erected in his honor in 1848 and can be seen along the Natchez Trace Parkway today.