Parkway Closures and Construction in Progress

Please visit the Current Conditions page of our web site to see any potential closures, detours, or delays along the Parkway. More »
Things To Do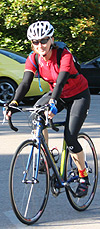 NPS
Visitors can enjoy the Parkway through a variety of activities and special events. Camping, biking, and Ranger led programs are among the most popular activities but hiking, horseback riding, and fishing are also available. There are special events that occur throughout the year that feature demonstrations and celebrate many aspects of American culture. Check our schedule of events for upcoming programs.
Don't forget that for some, the "thing to do" along the Natchez Trace Parkway is to relax and let the explorer in you take you to places that you may not have otherwise visited. Either the mystery of the mounds in Mississippi, the beauty of the waterfalls in Tennessee, or a summer rain shower in a cypress swamp could be the memory that stays with you after your time on the Natchez Trace Parkway.

Did You Know?

The Mount Locust Inn and Plantation, dating back to the 1780's, is one of the oldest original structures along the Natchez Trace Parkway.