Portion of National Scenic Trail Near Tupelo Closed to Hikers

Part of the Natchez Trace National Scenic Trail (NOT the Parkway) near Tupelo, MS, has been closed until 2015 due to construction under Tupelo's Major Thoroughfare Construction Project. Parkway travelers may expect delays, but no detours are expected. More »
Ranger-Led Activities and Events in the Tupelo Area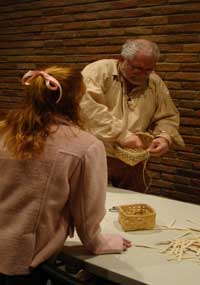 NPS Photo
There are numerous special events that take place in the Tupelo area throughout the year. Have you ever wanted to practice playing a dulcimer or learn how early pioneers survived in the wilderness surrounding the early Natchez Trace? Come during one of the park's Dulcimer Days or Pioneer Days and practice your skills!
You may also choose to join a park ranger and explore parts of the original Trace, or learn more about the many American Indian mounds found along route of the modern Parkway. Discover the world of boatmen and bandits, Chickasaw and Choctaw, and forest and wildlife. Ranger programs are always free; schedules and topics vary by season. Please call 1-800-305-7417 for more information on ranger-led activities.
December 2013
December 7, 2013 Dulcimer Day
A special program of dulcimer music will be provided by the North Mississippi Dulcimer Association from 10:00 a.m. - 1:00 p.m. on Saturday, December 7, 2013, at the Parkway Visitor Center located at milepost 266 near Tupelo, Mississippi.
The North Mississippi Dulcimer Association teaches dulcimer history, tradition, craftsmanship, and music by sharing its knowledge and talents. The Appalachian mountain dulcimer is the first instrument developed in the United States. Dating back to the early 1800s, the dulcimer is an instrument whose very name means "sweet sound." The National Park Service and the North Mississippi Dulcimer Association invite everyone to listen to the soft sweet sounds of the dulcimer and learn of its extensive history.
December 14, 2013 Natchez Trace Toybox Junior Ranger Program
The Natchez Trace Parkway invites children and their families to "The Natchez Trace Toy Box," a special Junior Ranger program held at the Parkway Visitor Center on Saturday, December 14, 2013, at 10:00 a.m. Junior Rangers will learn about toys that children played with in the 1800s and have a chance to try them out. Jacobs ladders, buzz saws, and tops are just a few examples of the toys that will be available for children to try. Participants may make a toy to take home.
This program is free of charge. The Natchez Trace Parkway Visitor Center is located along the Parkway at milepost 266, just north of Tupelo, Mississippi. For additional information, please call the visitor center at 662-680-4027, or 1-800-305-7417.
Did You Know?

The double arch bridge at milepost 438 on the Natchez Trace Parkway was completed in 1994 and received the Presidential Award for Design Excellence in 1995 for its innovative design. The bridge rises 155 feet above the valley and eliminates the need for spandrel columns.