Portion of National Scenic Trail Near Tupelo Closed to Hikers

Part of the Natchez Trace National Scenic Trail (NOT the Parkway) near Tupelo, MS, has been closed until 2015 due to construction under Tupelo's Major Thoroughfare Construction Project. Parkway travelers may expect delays, but no detours are expected. More »
Ranger-Led Activities and Events in the Natchez Area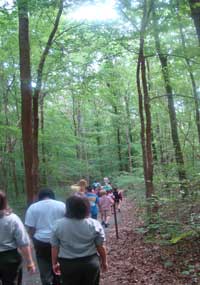 NPS Image
You may chose to join a park ranger and explore parts of the original Trace, or learn more about the many American Indian mounds found along route of the modern Parkway. Discover the world of boatmen and bandits, Chickasaw and Choctaw, and forest and wildlife. Ranger programs are always free; schedules and topics vary by season. Please call 1-800-305-7417 for more information on ranger-led activities.
February Events
February 17, 2014 Junior Ranger Day
The Natchez Trace Parkway will host a Junior Ranger Day at the Mount Locust Information Center on Monday, February 17, 2014 from 10:00 a.m. to 3:30 p.m. Junior Rangers will have the opportunity to earn their Junior Ranger Badge, or Junior Boatman Patch by participating in different activities.
This engaging program will be ongoing and will cover natural and cultural history topics that are related to the Natchez Trace Parkway. Visitors do not need to be present the entire time, but should plan on spending about one hour to complete the activity and earn a Junior Ranger Badge.
The Junior Boatman Walk will be a one-time program which will begin at 12:00 p.m. and will last 2-3 hours. The participants should report to the Mount Locust Information Center by 11:30 a.m. Visitors will caravan to the trailhead, and join a ranger for a three-mile guided walk on a section of the Potkopinu Section of the Natchez Trace National Scenic Trail. Comfortable shoes, walking sticks, and water bottles are recommended. The program is educational and entertaining, and the participants will earn a Junior Boatman Patch.
These programs are free to the public and are most appropriate for children ages 7-12, but all ages are welcome. A parent or guardian or will need to accompany children on the hike. Mount Locust is located at mile post 15.5 on the Natchez Trace Parkway, just 15 miles north of Natchez, MS. For more information call 601-445-4211.
Did You Know?

The double arch bridge at milepost 438 on the Natchez Trace Parkway was completed in 1994 and received the Presidential Award for Design Excellence in 1995 for its innovative design. The bridge rises 155 feet above the valley and eliminates the need for spandrel columns.