Parkway Closures and Construction in Progress

Please visit the Current Conditions page of our web site to see any potential closures, detours, or delays along the Parkway. More »
Lodging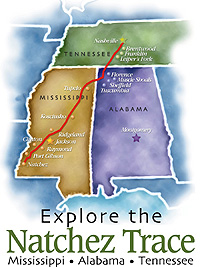 Natchez Trace Compact
There is no lodging available on the Natchez Trace Parkway itself, but the communities along the Parkway may provide hotels, or bed and breakfasts. The Natchez Trace Compact is an organization comprised of communities along the Parkway, and their website, scenictrace.com, can provide you with more information about the communities along the Parkway.
Those interested in cabins are encouraged to try State Parks that are close to the Parkway.
Did You Know?

Meriwether Lewis, of the Lewis and Clark Expedition, was governor of the Upper Louisiana Territory when he died on the Natchez Trace in 1809, at Grinder's Stand in Tennessee. A monument was erected in his honor in 1848 and can be seen along the Natchez Trace Parkway today.