Tennessee River Bridge (MP 327.4-MP 329) Construction Delays 3/11/14-3/15/14

The Tennessee River bridge will be partially closed, one lane at a time, on Tuesday, March 11, 2014 through Saturday, March 15, 2014. While short delays may be expected, it is not anticipated that the road work will require a detour at this time.
Portion of National Scenic Trail Near Tupelo Closed to Hikers

Part of the Natchez Trace National Scenic Trail (NOT the Parkway) near Tupelo, MS, has been closed until 2015 due to construction under Tupelo's Major Thoroughfare Construction Project. Parkway travelers may expect delays, but no detours are expected. More »
Lodging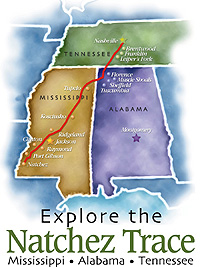 Natchez Trace Compact
There is no lodging available on the Natchez Trace Parkway itself, but the communities along the Parkway may provide hotels, or bed and breakfasts. The Natchez Trace Compact is an organization comprised of communities along the Parkway, and their website, scenictrace.com, can provide you with more information about the communities along the Parkway.
Those interested in cabins are encouraged to try State Parks that are close to the Parkway.
Did You Know?

The double arch bridge at milepost 438 on the Natchez Trace Parkway was completed in 1994 and received the Presidential Award for Design Excellence in 1995 for its innovative design. The bridge rises 155 feet above the valley and eliminates the need for spandrel columns.