Tennessee River Bridge (MP 327.4-MP 329) Construction Delays 3/11/14-3/15/14

The Tennessee River bridge will be partially closed, one lane at a time, on Tuesday, March 11, 2014 through Saturday, March 15, 2014. While short delays may be expected, it is not anticipated that the road work will require a detour at this time.
Portion of National Scenic Trail Near Tupelo Closed to Hikers

Part of the Natchez Trace National Scenic Trail (NOT the Parkway) near Tupelo, MS, has been closed until 2015 due to construction under Tupelo's Major Thoroughfare Construction Project. Parkway travelers may expect delays, but no detours are expected. More »
Getting Around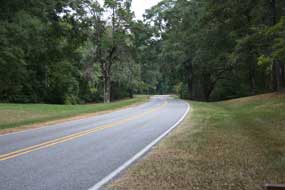 NPS Image
The most popular way to see the Natchez Trace Parkway is by car. All travelers should be aware of the following precautions when traveling.
Speed limit is 50 mph, unless otherwise posted
The Parkway is a designated bike route. Motorists are reminded to watch for bicyclists on the Parkway.
Watch for park wildlife, especially around dusk and dawn.
Travel is not advised at night, or during severe weather (heavy rain, ice, sleet, snow, strong wind)
The Parkway does occasionally close during hazardous weather.
Recreational vehicles (RVs) are another popular way to see the Parkway. The length restriction for RVs is 55 feet, including a tow vehicle, and the height restriction is 14 feet. Most stops along the Natchez Trace Parkway are accessible to RVs, with the exception of those marked "no circular drive".
Another method of travel along the Natchez Trace Parkway is by bicycle. If you are interested in learning more about bicycling the Parkway, please visit our bicycling pages.
There are numerous access points to the Parkway including major highways. Popular access points include:
Liberty Road, off of Sergeant Prentiss Drive in Natchez, Mississippi (Southern Terminus)
Highway 61 just North of Natchez, Mississippi
Interstate 20, near Clinton, Mississippi
Interstate 55 in Jackson, Mississippi
Highway 82, near Starkville, Mississippi
Highway 6 in Tupelo, Mississippi
Highway 78 in Tupelo, Mississippi
Highway 72, near Cherokee, Alabama
Highway 64, near Lawrenceburg, Tennessee
Highway 96, near Franklin, Tennessee
Interstate 40 west of Nashville, to exit 192, McCrory Lane (Northern Terminus)
Visit our maps page, to download the Parkway map with these and other access points to the Natchez Trace Parkway.
Did You Know?

The terrain along the Natchez Trace Parkway changes from 70 to 1,100 feet in elevation and passes through 5 degrees of latitude.