Tennessee River Bridge (MP 327.4-MP 329) Construction Delays 3/11/14-3/15/14

The Tennessee River bridge will be partially closed, one lane at a time, on Tuesday, March 11, 2014 through Saturday, March 15, 2014. While short delays may be expected, it is not anticipated that the road work will require a detour at this time.
Portion of National Scenic Trail Near Tupelo Closed to Hikers

Part of the Natchez Trace National Scenic Trail (NOT the Parkway) near Tupelo, MS, has been closed until 2015 due to construction under Tupelo's Major Thoroughfare Construction Project. Parkway travelers may expect delays, but no detours are expected. More »
Fees & Reservations
There are no fees or reservations at the Natchez Trace Parkway.
Visitors can enter the Parkway, free of charge, from dozens of county, state, and U.S. roads in Mississippi, Alabama, and Tennessee. Please refer to the Parkway Map for places to access the Parkway.

Camping at any one of the three campgrounds along the Parkway (Rocky Springs, Jeff Busby, and Meriwether Lewis) is also free and available on a first come, first served basis. Campgrounds are typically busiest during the spring and fall, especially during holiday weekends.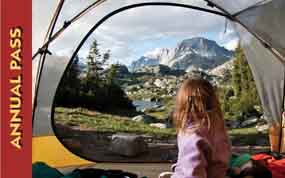 NPS image
Though there are no fees at the Natchez Trace Parkway, you may be interested in the America the Beautiful - National Parks and Federal Recreational Lands Pass if you are visiting other federal land areas, including national parks. However, because there is no entrance fee, the America the Beautiful Annual Pass, Senior Pass, or Access Pass is not available at the Natchez Trace Parkway.
All National Parks Passes, Golden Eagle, Golden Eagle Hologram, Golden Access and Golden Age Passports will continue to be honored according to the provisions of the pass.


Did You Know?

Over 100 different species of trees, including the Dogwood and Redbud, grow along the Natchez Trace Parkway.