Short Construction Delays Possible Near Tupelo, MS (milepost 264.4)

Repairs on a bridge will require one-lane closures of the Parkway for about 1/4 mile near Tupelo. Work is expected to be completed in fall of 2014. Please use caution due to construction traffic around the work area. More »
Portion of National Scenic Trail Near Tupelo Closed to Hikers

Part of the Natchez Trace National Scenic Trail (NOT the Parkway) near Tupelo, MS, has been closed until 2015 due to construction under Tupelo's Major Thoroughfare Construction Project. Parkway travelers may expect delays, but no detours are expected. More »
Ammendments to the Superintendent's Compendium

Launching, landing or operating an unmanned aircraft from or on lands and waters administered by the National Park Service within the boundaries of the Natchez Trace Parkway is prohibited except as approved in writing by the superintendent. More »
Mounds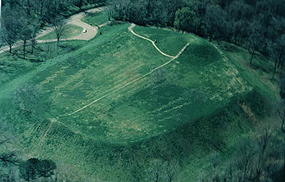 NPS
There are seven mound groups located along the Natchez Trace Parkway, all in Mississippi. Visiting the mounds allows you to see the rich legacy of American Indian cultural achievements. Many diverse prehistoric Indian groups, drawn by the bountiful wildlife, warm climate, and fertile soil, made their homes in what is now Mississippi for thousands of years before the first Europeans and Africans arrived. The mound culture thrived in this area beginning about 2000 years ago and lasted until just about 400 years ago. Mounds built of earth are the most prominent remains left on the landscape by these native peoples of Mississippi.
Download our Emerald Mound Site Bulletin.


Did You Know?

The double arch bridge at milepost 438 on the Natchez Trace Parkway was completed in 1994 and received the Presidential Award for Design Excellence in 1995 for its innovative design. The bridge rises 155 feet above the valley and eliminates the need for spandrel columns.