Parkway Closures and Construction in Progress

Please visit the Current Conditions page of our web site to see any potential closures, detours, or delays along the Parkway. More »
Mounds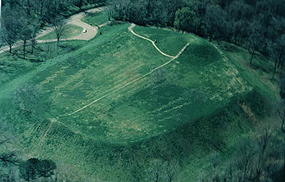 NPS
There are seven mound groups located along the Natchez Trace Parkway, all in Mississippi. Visiting the mounds allows you to see the rich legacy of American Indian cultural achievements. Many diverse prehistoric Indian groups, drawn by the bountiful wildlife, warm climate, and fertile soil, made their homes in what is now Mississippi for thousands of years before the first Europeans and Africans arrived. The mound culture thrived in this area beginning about 2000 years ago and lasted until just about 400 years ago. Mounds built of earth are the most prominent remains left on the landscape by these native peoples of Mississippi.
Download our Emerald Mound Site Bulletin.


Did You Know?

The Mississippi Daughters of the American Revolution (DAR) played a vital role in the preservation of the Natchez Trace by placing markers in each Mississippi county the old trace passed through.