Successful Muster to Kick off War of 1812 Bicentennial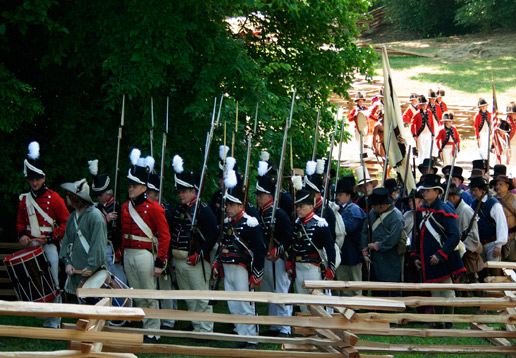 NPS Photo
Over 2000 visitors and volunteers honored the contributions of soldiers from the War of 1812 over Memorial Day weekend at the Gordon House Historic Site on the Natchez Trace Parkway. Volunteers and representatives from 15 living history associations gathered to commemorate a historic troop "muster" for the War of 1812. In the years leading up to the war, both militia volunteers and Army regulars would gather during "muster days" for military training. The Natchez Trace was a major travel corridor during the War of 1812 as troops under the command of Andrew Jackson marched to and from conflicts along the southern coast.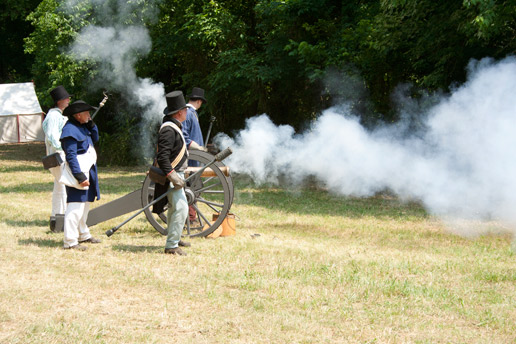 NPS Photo
Visitors were treated to numerous activities reminiscent of the early 1800s, as living history enthusiasts from around the southeast marched in full period uniforms, performed drills and historic weapons demonstrations and interpreted camp life. Other volunteers conducted historic sawyering and engineering demonstrations, displaying the skills necessary to turn the Natchez Trace into road capable of handling the troops destined to march along it. A historic tavern functioned as an early community center, allowing for social and political discussions as well as games and entertainment. Sutlers offered leather and cloth goods, uniforms, and a variety of handmade items for sale. Volunteers reenacting a Chickasaw camp educated visitors on the important role of the United States' American Indian allies during the war effort. No war is without political debates and the War of 1812 was no exception. Volunteer actors entertained and educated as they debated both sides of the young United States' decision to enter into war again with Great Britain. Visitors packed into the "Speaker's Tent" to gain modern insight into the causes and repercussions of the War of 1812.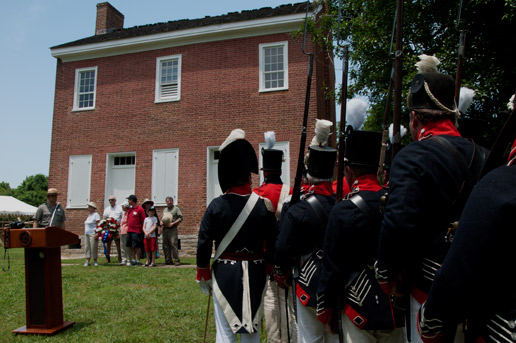 NPS photo
Natchez Trace Parkway superintendent Cameron Sholly opened the event, recognizing the important contributions of the park's partners, including Steve Abolt, Commanding Officer of the 7th US Infantry Living History Association and Tony Turnbow, President of the Natchez Trace Parkway Association. Also recognized were the many volunteers that collectively contributed over 4000 hours to make the event a success and assistance from the staff of Fort Frederica National Monument and Ninety-Six National Historic Site. Members of the Gordon family were recognized for their family's contribution during the closing ceremony. Parkway staff from all divisions worked together to ensure a safe, educational experience. Funds from Eastern National and the SER Special VIP program helped make the event a success. North District Ranger Daniel Kimes was the incident commander.