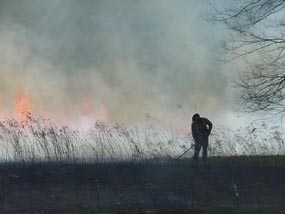 NPS photo.
Rural Fire Assistance Program
In addition to Natchez Trace Parkway personnel, local fire agencies are often called on to assist with suppression duties through participation in the Rural Fire Assistance program (RFA). The RFA program was implemented after the 2000 fire season as part of the National Fire Plan. Its purpose is to aid in reducing fire impacts on rural communities and provide for sufficient wildland fire protection capabilities in the future. In order to be eligible for RFA program federal funds, rural/volunteer fire departments must:
· Be in a community of less than 10,000 people,
· Be in close proximity to federal land, and
· Have a mutual aid/cooperative fire agreement with a local Department of Interior agency
This money can be used to purchase wildland firefighting equipment, provide wildland fire training for personal, and provide prevention activity support for the local community. The RFA program is an integral part of the Fire Management Program at the Natchez Trace Parkway due to the Parkway's layout and large amount of wildland/urban interface along its 888 miles of boundary.
Volunteer fire departments are often the first agencies to respond to wildland fires. Adequate equipment and training is crucial to firefighter safety, as well as community and natural resource protection. In 2005, the Natchez Trace Parkway provided funding to numerous fire departments helping to ensure protection for many neighboring communities. As a result, the Natchez Trace Parkway received national recognition with a National Fire Plan Award for Excellence in Community Assistance. The parkway supports the goals of the National Fire Plan through their collaboration with 52 rural fire departments along 444 miles of parkway traversing three states. Through the RFA Program, the park helps provide basic wildland fire suppression materials and gear for those departments.
For more information on the RFA program visit www.forestsandrangelands.gov/communities/index.shtml or call the Natchez Trace Parkway Fire Management Office at 662-680-4028.