Government Employment Opportunities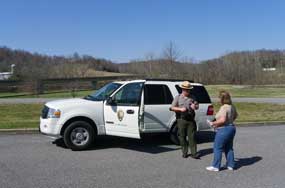 NPS Image
The National Park Service and the Natchez Trace Parkway help conserve the natural, historic, and recreational resources of our country. A career with the Natchez Trace Parkway is rewarding and includes the possibility of working in many kinds of jobs. Park Rangers, Wildland Firefighters, Administrative Assistants, Information Technology Specialists, and Engineers are a few of the career fields found at the Natchez Trace Parkway.
Visit usajobs.gov to see the current job opportunities with the Federal Government.
The Natchez Trace Parkway often hires students to fill temporary positions through the Student Temporary Employment Program (STEP). Applicants must be current students, enrolled at least half time. To learn more about student opportunities or the STEP program, visit studentjobs.gov.
If you are interested in a career with the National Park Service, but are not sure if it is right for you, an SCA Internship, or volunteer position is a great way to try it out.