Parkway Closures and Construction in Progress

Please visit the Current Conditions page of our web site to see any potential closures, detours, or delays along the Parkway. More »
Choctaw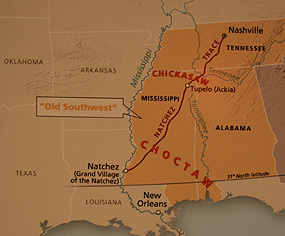 NPS image
The Choctaw were the largest tribe along the Old Trace and share a history with it that continues to this day. Historically, when travelers left Natchez, they knew they would soon be passing the through the heart of Choctaw territory. The Choctaw were known to be excellent farmers and often provided food to early Europeans in the area. Politically, the Choctaw allied with the French and against the Chickasaw and English during the many military conflicts that arose from the 1720s until American Independence in 1783. As the United States expanded westward, pressure mounted to secure land from the Choctaw for U.S. settlement. Choctaw lands continued to shrink through a series of land cession treaties. In 1830, the Treaty of Dancing Rabbit Creek forcibly removed most Choctaw to land west of the Mississippi River, to the present state of Oklahoma. Some Choctaw remained in Mississippi, some returned, and today are known as the Mississippi Band of Choctaw Indians, located in Choctaw, Mississippi, near Philadelphia, approximately 25 miles east of the Parkway at Milepost 160.


Seal of the Choctaw Nation of Oklahoma

Click here to visit the Choctaw Nation of Oklahoma web site. Read More
Did You Know?

The double arch bridge at milepost 438 on the Natchez Trace Parkway was completed in 1994 and received the Presidential Award for Design Excellence in 1995 for its innovative design. The bridge rises 155 feet above the valley and eliminates the need for spandrel columns.