Portion of National Scenic Trail Near Tupelo Closed to Hikers

Part of the Natchez Trace National Scenic Trail (NOT the Parkway) near Tupelo, MS, has been closed until 2015 due to construction under Tupelo's Major Thoroughfare Construction Project. Parkway travelers may expect delays, but no detours are expected. More »
Chickasaw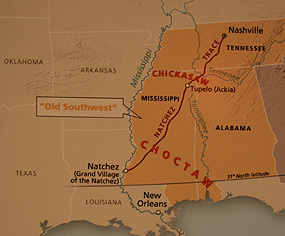 NPS Image
The historic homeland of the Chickasaw is found in north Mississippi and western Tennessee. Though a smaller tribe than the Choctaw, the Chickasaw were known as fierce warriors and still consider themselves as "unconquered and unconquerable." Perhaps the most important Chickasaw military victories came in the spring of 1736 when they defeated the French, Choctaw, and warriors from other tribes at the Battles of Ogoula Tchetoka and Ackia, near present day Pontotoc and Tupelo, Mississippi, near Milepost 262. After the American Revolution ended in 1783, westward expansion of the United States led to a series of land cession treaties for the Chickasaw. In 1832, the
Treaty of Pontotoc Creek
resulted in the forced removal of the Chickasaw to lands west of the Mississippi River, to the present state of Oklahoma. Today, the
Chickasaw Nation
continues to be strong and resolute in preserving its historical connection with north Mississippi and the Natchez Trace Parkway.


The Great Seal of the Chickasaw Nation

Click here to visit the official Chickasaw Nation web site.
Did You Know?

George Colbert operated a stand and ferry to cross the Tennessee River and is rumored to have charged Andrew Jackson $75,000 to ferry his army across the river.