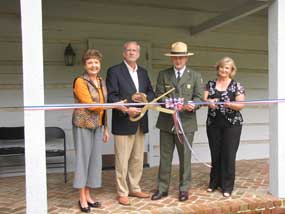 NPS Photo
The Natchez Trace Parkway Association is a non-profit organization that assists the Natchez Trace Parkway by seeking funding and political support for the National Park Service's seventh most visited unit.
Eastern National Parks and Monuments Association is a private, non-profit organization that provides quality educational products and services to park visitors. A portion of the proceeds are donated back to the Natchez Trace Parkway to support interpretive and educational programs. We have used these funds for special events and interpretive programs and supplies.
With the help of State Parks, the Army Corps of Engineers, and US Forest Service we are able to provide additional recreational opportunities to our visitors.
The Student Conservation Association (SCA) provides college and high school students with hands-on opportunities in the field of conservation, while assisting the Natchez Trace Parkway with trail projects.