Sequestration Effects on the Parkway

On March 1, 2013, the Parkway was required to reduce its annual budget by five percent, in accordance with the sequestration provision of the Budget Control Act of 2011. Click the link to learn about visitor center, restroom, and services impacts. More »
Portion of National Scenic Trail Near Tupelo Closed to Hikers

Part of the Natchez Trace National Scenic Trail (NOT the Parkway) near Tupelo, MS, has been closed until 2015 due to construction under Tupelo's Major Thoroughfare Construction Project. Parkway travelers may expect delays, but no detours are expected. More »
Colbert Ferry Bicycle-Only Campground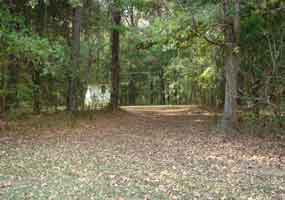 NPS Photo
At milepost 327, the Colbert Ferry site provides a bicycle-only campground with picnic tables, grills, and fire rings.
As you enter the Colbert Ferry Site follow the road to the left, past the visitor contact station toward the boat ramp. At the end of the first curve, you will notice a gate with a tent and bicycle symbol. Ride past the gate about 100 feet, to an open area with a small white building visible. Follow the open area to the bicycle-only campground.
**On March 1, 2013, the Natchez Trace Parkway was required to reduce its annual budget by five percent, in accordance with the sequestration provision of the Budget Control Act of 2011. Impacts to the Colbert Ferry Site include:
The Colbert Ferry Contact Station will remain closed.

The restrooms at both the boat ramp and contact station will be closed two days per week, from Wednesday morning through Friday morning.**
Access a map of this section of the Parkway.
Did You Know?

The "Kaintucks", or boatmen from the Ohio River Valley, would walk approximately 500 miles from Natchez to Nashville along the Natchez Trace in about 30 days.