Washington Monument Closed

The Washington Monument is closed for repairs due to an earthquake on August 23, 2011. More »
Be A Junior Ranger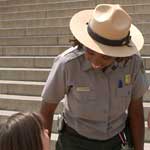 NPS Photo
The Junior Ranger Program
A program for young visitors! Talk to a ranger to get your own activity booklet. Complete the booklet to earn your very own junior ranger badge. Print a junior ranger book now to get a head start!
Check the Schedule of Events for upcoming Junior Ranger events!
Did You Know?

Inside the rotunda of the Jefferson Memorial, Thomas Jefferson is quoted, "I have sworn upon the altar of God eternal hostility against every form of tyranny over the mind of man."