Shepherd Parkway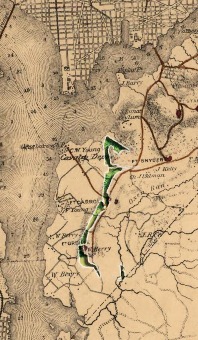 Welcome to the Shepherd Parkway, where the beauty of nature meets the lively streets of an urban society in Southeast Washington DC.
Shepherd Parkway is part of the Civil War Defenses of Washington. It includes two civil war sites: Fort Greble and Fort Carroll. Today visitors can still see remains of both earthwork fortifications.
On April 11, 1927 the National Capital Parks and Planning Commission acquired what is today Shepherd Parkway to connect the rest of the civil war forts in the Nation's capital for purposes of a parkway called "Fort Drive". While that idea was never realized the park became part of the National Park Service in 1933 and is today a mature wooded forest with a rolling terrace gravel terrain that offers a home to a variety of wildlife.
The epic quest to restore the natural splendor of Shepherd Parkway continues throughout 2013. By removing trash, debris, and invasive species from one of DC's most unique wooded areas, we will be protecting our trees, wildlife and rivers and creating a new recreation destination in Ward 8. Come be a part of history!
We are pleased to announce the Shepherd Parkway Community Clean-Up dates for 2013. Please join us from 10 AM to 1 PM on:
Saturday, January 26
Saturday, February 23
Saturday, March 23
Saturday, April 20
Saturday, May 18
Our new meeting location is the corner of 4th and Mellon Streets SE.
Gloves, bags, and a pizza lunch will be provided. Wear sturdy shoes and clothes you can get dirty.

For more information, please contact Nathan Harrington at nbharrington@yahoo.com or 301-758-5892