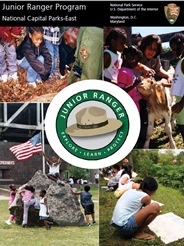 NACE Junior Ranger Book
Want to become a Junior Ranger? Download our Junior Ranger book, have fun with the activities, and explore your parks.
Climate Friendly and Anacostia Watershed Books
The National Capital Parks-East,Climate Friendly, and Anacostia Watershed Jr. Ranger booklets were designed as a part of the Jr. Ranger Ambassador Program: a cooperation between the National Parks Service and the Student Conservation Association. This program was created to improve the Jr. Ranger experience in National Parks.