Bookstore
Canyonlands Natural History Association (CNHA) is a nonprofit organization assisting the National Park Service in its educational, interpretive and scientific programs throughout southeast Utah. CNHA's goals include enhancing every visitor's understanding and appreciation of public lands by providing a selection of quality, educational materials for sale at the park visitor centers.
For more information, contact CNHA at (435)259-6003, or visit www.cnha.org.


Did You Know?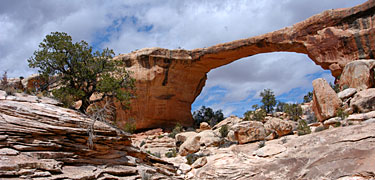 Sipapu means "the place of emergence," an entryway by which the Hopi believe their ancestors came into this world. Kachina is named for rock art on the bridge that resembles symbols commonly used on kachina dolls. Owachomo means "rock mound," a feature atop the bridge's east abutment.