Fees & Reservations
ENTRANCE FEES
All federal lands passes are issued and accepted at Natural Bridges.
Individuals: $3 (Good for 7 Days)
This fee applies to motorcycles, bicycles and walk-ins (per person).
Vehicles: $6 (Good for 7 days)
This fee includes all occupants of a vehicle.
Local Passport: $25 (Good for one year)
Good for entrance to Arches, Canyonlands, Hovenweep and Natural Bridges.
Commercial Tours
Fee depends upon the capacity of the vehicle. 1 to 6 passenger vehicles are charged $25 + $5 per person. 7 to 25 passenger vehicles are charged $40. 26 or more passenger vehicles are charged $100.
CAMPING FEES
Sites at the campground are $10 per night. All sites are first-come, first-served. More...


Did You Know?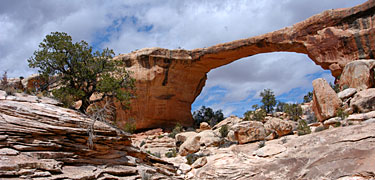 Sipapu means "the place of emergence," an entryway by which the Hopi believe their ancestors came into this world. Kachina is named for rock art on the bridge that resembles symbols commonly used on kachina dolls. Owachomo means "rock mound," a feature atop the bridge's east abutment.