Brochures
These publications are freely distributed by the National Park Service. All require Adobe Acrobat Reader for viewing.
Archeology [130k PDF File]
Introduces the rich cultural history of the Natural Bridges area with both European and Hopi perspectives.
Geology [161k PDF File]
Explains how natural bridges and the other rock formations found in the area were created.
Visitor Guide
Overview of activities, facilities and hiking trails at Natural Bridges. Available in three languages:

English [1.2mb PDF File]
French [355k PDF File]
German [282k PDF File]


Did You Know?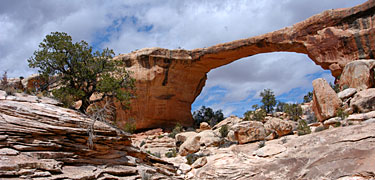 Sipapu means "the place of emergence," an entryway by which the Hopi believe their ancestors came into this world. Kachina is named for rock art on the bridge that resembles symbols commonly used on kachina dolls. Owachomo means "rock mound," a feature atop the bridge's east abutment.