Laws & Policies
The purpose of the compendium is to provide the public and park employees with a document that lists the special designations, closures, permit requirements, public use limits, and other restrictions made at the superintendent's discretion. The compendium is reviewed annually and augments what is contained in the
Code of Federal Regulations
and other applicable federal statutes and regulations.

Firearms
As of February 22, 2010, federal law allows people who can legally possess firearms under applicable federal, state, and local laws, to legally possess firearms in this park. It is the responsibility of visitors to understand and comply with all applicable state, local, and federal firearms laws before entering this park. As a starting point, please visit our
state's website
. Federal law also prohibits firearms in certain facilities in this park; those places are marked with signs at all public entrances.
Did You Know?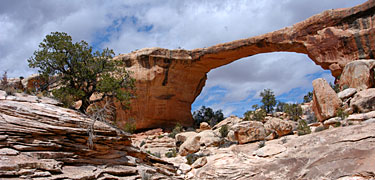 Sipapu means "the place of emergence," an entryway by which the Hopi believe their ancestors came into this world. Kachina is named for rock art on the bridge that resembles symbols commonly used on kachina dolls. Owachomo means "rock mound," a feature atop the bridge's east abutment.