The Dipsea Footbridge is Out!

The Dipsea Footbridge is out until further notice. Take the Deer Park Fire Road to connect with the Dipsea Trail at Muir Woods. See map of Muir Woods and Vicinity. Taking the extra steps protects you and endangered coho salmon. Do not cross Redwood Creek. More »
Muir Beach is OPEN

Muir Beach is open to the public every day, including holidays at 9 AM and closes one hour after sunset. More »
Trails in Muir Woods and Vicinity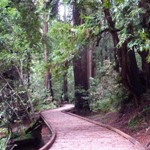 NPS photo by Lou Sian
Redwood Creek Footbridge on the Dipsea Trail is Out for the Winter
The Redwood Creek footbridge on the Dipsea Trail is out for the winter. It will be re-installed before summer. Use the Deer Park Fire Road to re-connect with the Dipsea Trai.The Deer Park Fire Road is on Muir Woods Road about 1/4 mile from Dipsea Trail and Muir Lower Muir Woods Road junction.Do not cross Redwood Creek. Taking the extra steps is safer for hikers and will protect endangered coho salmon.
Trails in and Around Muir Woods
Muir Woods National Monument contains 6 miles of trails. There is a 1/2 hour loop, a 1 hour loop, and a 1 1/2 hour loop as well as longer hikes on trails that extend into surrounding Mount Tamalpais State Park. Click to see a map of Muir Woods and its Vicinity. All of these walks afford views of thousands of old-growth coast redwoods, the tallest living things in the world. Pets, bicycles, smoking, horseback riding and camping are not permitted within the park. Food is not permitted in the forest, but a light snack may be eaten at the plaza or cafe deck.
The trails in Muir Woods are asphalted or boadwalked. Trails on the canyon walls are dirt, narrow, steep, and rutted with tree roots. Stroller and wheelchairs are not advised on most of the upper trails. Trail information is available in the Visitor Center.
TRAIL ADVISORIES - All Trails in Muir Woods Are Open
We're taking the opportunity during the non-peak season to work on our trail-related projects. All trails are open; however, construction for a new deck in Founders Grove is underway.
The NPS trail crew is replacing old asphalt in front of the Pinchot Tree with a new deck. The new deck is off of the Main Trail. The Main Trail will remain open for visitors. Built of Forest Stewardship Council coast redwood, the new deck will reduce impacts on the forest floor and roots, allow water to flow to Redwood Creek, provide shelter for forest animals, and offer an inviting place to catch a ranger program. Stop by and watch the crew's progress.
Mount Tamalpais State Park Trails
Muir Woods National Monument is surrounded by California State Park property. Many trails to and from Muir Woods connect with Mount Tamalpais State Park trails. These trails are long, narrow, unpaved, and often steep, requiring sturdy shoes with good treads. If you are planning to exit the monument via a state park trail, we recommend that you purchase a Muir Woods NM Park Map which includes a Nature Self-Guide and Watershed Hiking Map. This map may be purchased for $1 at the Visitor Center or at the self-serve map box at Bridge 2.
All trails in Mt. Tamalpais State Park are open.
For information about the trails outside the national monument,Click to visit the Mount Tamalpais State Park Web site.


Did You Know?

You can help with habitat restoration at Muir Woods and Redwood Creek, by volunteering at one of our regular drop-in programs, Wednesdays from 10 am to 1 pm. Call 415-383-4390 for more information. More...