Muir Woods Shuttle to Operate on Select Holidays Only

First time ever, Muir Woods Shuttle, Marin Transit Route 66 will operate on Thanksgiving weekend November 28 - December 1, Winter Solstice December 21, and day after Christmas to New Years Day, December 26 - January 1. Click for fees, schedule, & stops More »
Muir Beach Closed (not Muir Woods) July 8th to Mid-December 2013

This alert applies to Muir Beach, and not Muir Woods. Muir Beach closed July 8th to mid-December 2013 for restoration/construction. No restrooms or parking available at Muir Beach during this period. Check back for updates or call (415)561-3054. More »
Trail Work Ahead

We're taking the time to repair our trails. Please don't be surprised on the trail to find it might be closed. The Hillside Trail is open through the winter. The Ocean View Trail is closed for the winter. The Bootjack is closed at the Spur More »
Trails in Muir Woods and Vicinity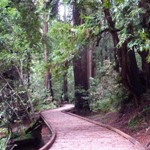 NPS photo by Lou Sian
Trails in and Around Muir Woods
Muir Woods National Monument contains 6 miles of trails. There is a 1/2 hour loop, a 1 hour loop, and a 1 1/2 hour loop as well as longer hikes on trails that extend into surrounding Mount Tamalpais State Park. Click to see a map of Muir Woods and its Vicinity. All of these walks afford views of thousands of old-growth coast redwoods, the tallest living things in the world. Pets, bicycles, smoking, horseback riding and camping are not permitted within the park. Food is not permitted in the forest, but a light snack may be eaten at the plaza or cafe deck.
The trails in Muir Woods are asphalted or boadwalked. Trails on the canyon walls are dirt, narrow, steep, and rutted with tree roots. Stroller and wheelchairs are not advised on most of the upper trails. Trail information is available in the Visitor Center.
TRAIL ADVISORIES
We're taking the opportunity during the non-peak season to work on our trails. All trails are open except:
Ocean View Trail until further notice
Bootjack Trail from Panoramic Highway to the Bootjack Spur is closed until further notice
Mount Tamalpais State Park Trails
Muir Woods National Monument is surrounded by California State Park property. Many trails to and from Muir Woods connect with Mount Tamalpais State Park trails. These trails are long, narrow, unpaved, and often steep, requiring sturdy shoes with good treads. If you are planning to exit the monument via a state park trail, we recommend that you purchase a Muir Woods NM Park Map which includes a Nature Self-Guide and Watershed Hiking Map. This map may be purchased for $1 at the Visitor Center or at the self-serve map box at Bridge 2.
All trails in Mt. Tamalpais State Park are open, except:
The Ocean View Trail from the Panoramic Trail to the Main Trail in Muir Woods.
Bootjack Trail from Panoramic Highway to the Bootjack Spur is closed until further notice.
For information about the trails outside the national monument,Click to visit the Mount Tamalpais State Park Web site.


Did You Know?

Fires over the centuries can hollow out a redwood, burning out a cave in the trunk of the living tree. Though the fire caves on some of the redwoods look fresh, the last forest fire that occurred in Muir Woods was about 160 years ago.