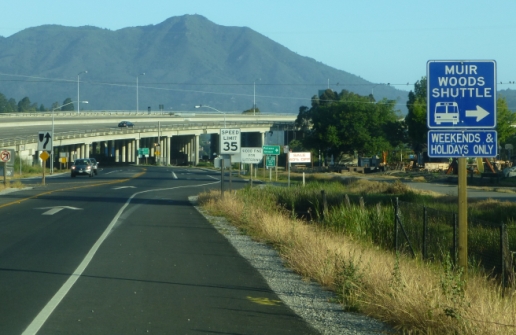 NPS photo by Ranger Lou Sian
Traffic and Parking Tips for a Busy Summer
Summer is the busiest time for Muir Woods. Besides greater numbers of people and cars, there are many construction projects occurring in the surrounding area.
To help you plan an enjoyable visit this summer, here are some tips about getting to the park.
Tip #1: Take the Muir Woods Shuttle offered on Saturdays, Sundays, and some holidays during the summer only.
Spend more time in the Woods and less time circling to find parking. Take the Muir Woods Shuttle and arrive within steps to the entrance. The fare is $5 per person 16 years or older, and the fee to enter the Woods is $7 per person 16 years or older. Pay your shuttle fare and entrance fee at the Visitor Center. For more information, see Route 66 or 66F at www.marintransit.org.
Tip #2: Visit Other Redwood Parks
Muir Woods is not the only park in Redwood Country. The redwood range spans the coast from Monterey to the California/Oregon border.
There is a large number of parks within the 2 million acres of coast redwoods, some of them logged and some of them are old growth like Muir Woods. For a very special experience combine your redwood park visit with a visit to the Sonoma or Mendocino wine country.
For information about other redwood parks, visit www.savetheredwoods.org or www.redwoodhikes.com.
Tip #3: Arrive very early or later in the day. Mid-day is busy!
Muir Woods opens every day at 8 AM and closes at 8 PM in the summer. For parking close to the park entrance, it's best to arrive early or later in the day. There are two parking lots at Muir Woods. On busy holiday weekends, both parking lots tend to fill up quickly. If both lots are full, park on Muir Woods Road and walk in. Do not park in the red zones, of course!
On busy holidays, expect to walk as far as ½ mile (20 minute walk) to the entrance.
You may drop off passengers in the Main Lot in front of the Visitor Center. Cell phone coverage is not reliable, so plan to meet your group in front of the Visitor Center.
Tip #4: Other Times to Visit
There are seasons when the park is not as crowded as in the summer. Late fall, winter and early spring are not as crowded. Holiday weekends are always crowded. Week days are better than weekends. Early morning and late afternoon are better than mid-day. Rainy days are always less crowded, but can be a dramatic, exciting experience in an ancient forest if you're well prepared and dressed for the weather.
Tip #5: Take a Commercial Tour Bus
Many commercial tour companies bring clients to the Woods on a regular basis. They are very familiar with road conditions and the best times to visit the Woods. Although we may not recommend any one company, the companies that come regularly have a Commercial Use Authorization (CUA) issued by the Golden Gate National Recreation Area. Ask if the company has a CUA.
Tip #6: View our photo essay about parking to help you plan a trip to the Woods.
The photo essay contains photos of signs and features to look for as you navigate your way to Muir Woods. We hope these photos help you make decisions before you encounter them while driving. Click to view a pdf of the photo essay. (9.6 MB).
Tip #7: Take the Marin Stagecoach and Hike Into Muir Woods
Plan a 1/2 day excursion to Muir Woods by catching the Marin Stagecoach to the Mountain Home Inn and hiking into Muir Woods from the Panoramic and Ocean View trails. For the Marin Stagecoach schedule, see www.marintransit.org. Click here for a Muir Woods and Vicinity map.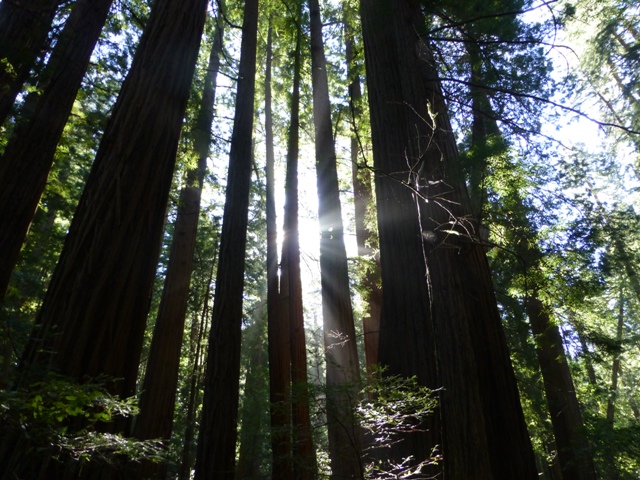 NPS Photo by Ranger Lou Sian