All Trails at Muir Woods are Open. Green Gulch Trail at Muir Beach to Close

The Green Gulch Trail from Kaasi Road will be closed for restoration construction on the weekdays from 7 AM - 4:30 PM beginning early August through October 2014. Full trail access will be available during evening hours and weekends. Signs will be posted. More »
7 Ranger's Tips on How to Experience Muir Woods Safely This Summer or How to Find Parking

Summer is the busiest for Muir Woods. Parking is limited. Often visitors find shoulder parking and walk on the narrow road to the Visitor Center. Read the ranger's tips on the Best Times to Visit Muir Woods. On weekends & holidays, take Muir Woods Shuttle More »
Ride the Muir Woods Shuttle. Summer is the busiest time for Muir Woods. Parking limited.

Muir Woods is experiencing high numbers of visitors. Summer traffic and unsafe parking behaviors are adding stress to visitors and residents. Expect delays on Hwy 1 as people drive to and from Muir Woods and local beaches. Read 7 Ranger's Tips on Parking. More »
Muir Beach is OPEN but Muir Beach Overlook closed until August 1, 2014.

Muir Beach is open but the Muir Beach Overlook is closed for construction until August 1, 2014. Muir Beach is open to the public every day, including holidays at 9 AM and closes one hour after sunset.
Schedule Of Events
Click here to view a pdf of the June and July 2014 programs and events for Muir Woods.
Search for Events
Events Upcoming for July
Showing 1 results

 RSS Feed
Saturday, July 26, 2014

Easy 2-mile walk on the Kaasi Trail around Redwood Creek at Muir Beach to learn about land use history, restoration and the current status of coho salmon. More

Time:

9:30 AM to 12:30 PM

Location:

Meet at the Muir Beach picnic tables

Fees:

Free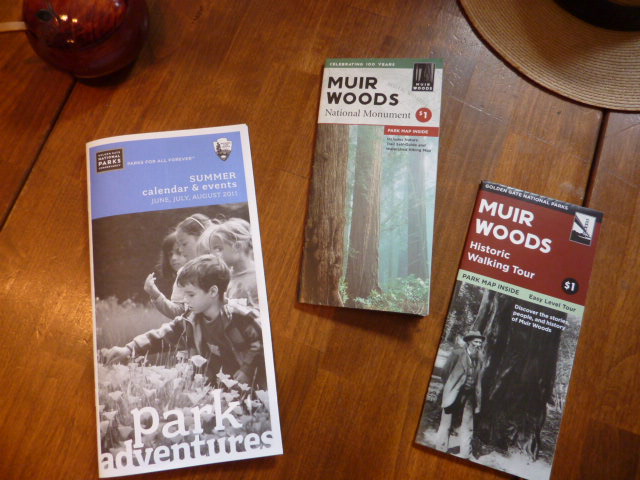 MUIR WOODS Programs
Open every day, including holidays, between 8 AM and sunset. Muir Beach and Muir Beach Overlook are open from 9 AM to one hour after sunset. All programs meet at the Visitor Center and entrance fee applies unless otherwise indicated.
Phone the Muir Woods Hotline at 388-2595 for program information and updates on hours, seasonal news, trail conditions and program details. Also, follow us on Twitter @MuirWoodsNPS.
Ongoing Daily Programs
Rangers and volunteers present 15-minute talks and guided one-hour tours when staffing permits. Check the program board at the park entrance for times and locations of talks and tours. No reservations necessary.
Besides taking in a talk or tour, there are other ways to enhance your experience at the park. Muir Woods offers two self-guided programs that may be purchased for $1 each at the Visitor Center or the self-serve map box at Bridge 2. The Nature Trail Self-Guide and Watershed Hiking map takes you on a redwood ecology walk on the Main Trail from Bridge 2 through Cathedral Grove. Follow the numbered (1-10) posts that correspond with the numbered sections in the map.
The Muir Woods Historic Walking Tour map takes you from the Visitor Center to Bridge 4 and back. There are no numbered posts to follow. The historic walking tour highlights the ancient redwoods, scenic trails, gathering places, rustic structures, and memorials that weave stories of people and nature.
Linger at the beautiful wayside signs throughout the park and learn about redwood ecology and cultural history of Muir Woods. Families with children enjoy participating in the Junior Ranger or Redwood Discovery: Muir Woods Quest programs. See the For Kids section of this web site.



Did You Know?

Muir Woods National Monument celebrated its 100th Anniversary on January 9, 2008. Muir Woods was the first National Monument created in an urban setting allowing people easy access. Today more than 800,000 people from all over the world come to visit each year. More...